Today's post is from Morris Proctor, certified and authorized trainer for Logos Bible Software. Morris, who has trained thousands of Logos users at his two-day Camp Logos seminars, provides many training materials.
As you well know, before reading a book, it's helpful to become acquainted with its author. The more we know about the writer, the more we can place the words of the resource in the context of his or her worldview. For example, we enjoy the daily devotional, My Utmost for His Highest, but do we know Oswald Chambers? When did he live? What was his theological bent?
Sometimes the book provides a convenient about-the-author page, but often we're left on our own to get to know the author. In Logos 6, however, there's a nice little feature that quickly becomes an instant about-the-author page.
Open a resource such as My Utmost for His Highest
Choose the panel menu on the resource (A)
Select Show table of contents (

B

)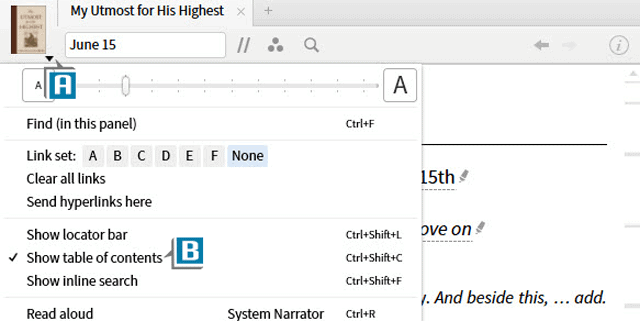 Click Title Page in the contents pane on the resource (C)
Highlight the author's name on the title page (D)
Right click on the selected author's name (E)
Select on the right side of the context menu the author's name (F)

Select on the left side of the context

 Wikipedia (G)
Notice Logos opens

 

the Wikipedia article about the author right within your software (H)
Enjoy browsing a quick bio about your author, before reading his or her book!
***
For additional training, be sure to check out Camp Logos 2, a Logos video resource, currently on Pre-Pub.