Faithlife Proclaim has thousands of beautiful church graphics, countdown timers, motion graphics, and more for church slides. Picking a favorite would be impossible.
So instead, we've collected the most popular options from Proclaim Pro Media (created by Faithlife's professional designers) and free Proclaim Community Media (shared by Faithlife Proclaim churches) in 2019. 
Since over 10,000 churches run Proclaim, that means these designs got a lot of uses—nearly 236,000.
1. Background
2. Motion background
3. Motion background
4. Motion background
5. Motion background
6. Motion background
7. Motion Background
8. Announcement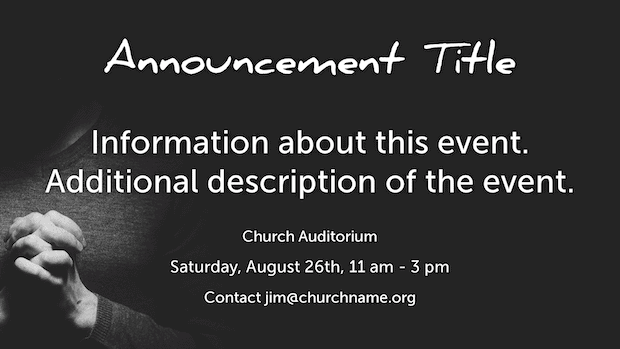 9. Announcement
Proclaim
Community Media top slides of 2019
1. Silence your cell phones
2. Biblia
3. Happy New Year motion
4. Cyan motion
5. Announcements page
6. Bible
7. Shhhhhhh
8. Green Light
9. Nighttime stars – song
10. Background
If you only need church graphics, try Faithlife Media for 14 days free.