Scriptures touch hearts and change lives in every area, even the touchy subject of money—specifically, tithes and offerings. So are you using Scriptures about giving in your church services?
You likely don't want to use the same Bible verses on giving and tithing over and over again, but you don't have to! Here are 25 verses on tithes and offerings you can use anytime.
Beware of practicing your righteousness before other people in order to be seen by them, for then you will have no reward from your Father who is in heaven. Thus, when you give to the needy, sound no trumpet before you, as the hypocrites do in the synagogues and in the streets, that they may be praised by others. Truly, I say to you, they have received their reward. But when you give to the needy, do not let your left hand know what your right hand is doing, so that your giving may be in secret. And your Father who sees in secret will reward you.
Matthew 6:1–4
These verses make a strong case for using online and mobile giving, don't they? It's a lot easier to give in secret when you're not trying to drop cash or check into the offering plate at superhuman speed.
If you would be perfect, go, sell what you possess and give to the poor, and you will have treasure in heaven; and come, follow me.
Matthew 19:21
You may need to share the context when you read this verse before your offering, but don't let it stop you from using it to remind your members of what's really important.
"Will man rob God? Yet you are robbing me. But you say, 'How have we robbed you?' In your tithes and contributions. You are cursed with a curse, for you are robbing me, the whole nation of you. Bring the full tithe into the storehouse, that there may be food in my house. And thereby put me to the test," says the Lord of hosts, "if I will not open the windows of heaven for you and pour down for you a blessing until there is no more need."
Malachi 3:8–10
That beautiful imagery speaks volumes on the generosity of our God. We can't ever outgive him.
Every good gift and every perfect gift is from above, coming down from the Father of lights, with whom there is no variation or shadow due to change.
James 1:17
Another priceless passage on the goodness of God, a reminder that tithes and offerings give back a part of what he's already given us.
And he sat down opposite the treasury and watched the people putting money into the offering box. Many rich people put in large sums. And a poor widow came and put in two small copper coins, which make a penny. And he called his disciples to him and said to them, "Truly, I say to you, this poor widow has put in more than all those who are contributing to the offering box. For they all contributed out of their abundance, but she out of her poverty has put in everything she had, all she had to live on."
Mark 12:41–44
A challenge to give to the Lord even when times are hard.
Do good, and lend, expecting nothing in return, and your reward will be great.
Luke 6:35
Giving money is not the only way we can do good, but it's one way not to be overlooked.
Give, and it will be given to you. Good measure, pressed down, shaken together, running over, will be put into your lap. For with the measure you use it will be measured back to you.
Luke 6:38
An excellent picture of why we shouldn't be stingy.


What father among you, if his son asks for a fish, will instead of a fish give him a serpent; or if he asks for an egg, will give him a scorpion? If you then, who are evil, know how to give good gifts to your children, how much more will the heavenly Father give the Holy Spirit to those who ask him!"
Luke 11:11–13
Another verse to reflect on the goodness of God.
Take care, and be on your guard against all covetousness, for one's life does not consist in the abundance of his possessions." And he told them a parable, saying, "The land of a rich man produced plentifully, and he thought to himself, 'What shall I do, for I have nowhere to store my crops?' And he said, 'I will do this: I will tear down my barns and build larger ones, and there I will store all my grain and my goods. And I will say to my soul, "Soul, you have ample goods laid up for many years; relax, eat, drink, be merry." ' But God said to him, 'Fool! This night your soul is required of you, and the things you have prepared, whose will they be?' So is the one who lays up treasure for himself and is not rich toward God."
Luke 12:15–21
Even in times of financial plenty, may we always be rich toward God above all else.
Consider the lilies, how they grow: they neither toil nor spin, yet I tell you, even Solomon in all his glory was not arrayed like one of these. But if God so clothes the grass, which is alive in the field today, and tomorrow is thrown into the oven, how much more will he clothe you, O you of little faith! And do not seek what you are to eat and what you are to drink, nor be worried. For all the nations of the world seek after these things, and your Father knows that you need them. Instead, seek his kingdom, and these things will be added to you. Fear not, little flock, for it is your Father's good pleasure to give you the kingdom. Sell your possessions, and give to the needy. Provide yourselves with moneybags that do not grow old, with a treasure in the heavens that does not fail, where no thief approaches and no moth destroys. For where your treasure is, there will your heart be also.
Luke 12:27–34
Giving (or not giving) helps reveal where our hearts are.
And with great power the apostles were giving their testimony to the resurrection of the Lord Jesus, and great grace was upon them all. There was not a needy person among them, for as many as were owners of lands or houses sold them and brought the proceeds of what was sold and laid it at the apostles' feet, and it was distributed to each as any had need.
Acts 4:33–35
The early Church gives us an example of giving to help the needy.
In all things I have shown you that by working hard in this way we must help the weak and remember the words of the Lord Jesus, how he himself said, 'It is more blessed to give than to receive.' "
Acts 20:35
This truth about giving pops up around Christmas, but, of course, it applies year-round.
Let love be genuine. Abhor what is evil; hold fast to what is good. Love one another with brotherly affection. Outdo one another in showing honor. Do not be slothful in zeal, be fervent in spirit, serve the Lord. Rejoice in hope, be patient in tribulation, be constant in prayer. Contribute to the needs of the saints and seek to show hospitality.
Romans 12:9–13
Following the command to give is one of the aspects of a healthy, fulfilled Christian life.
So, whether you eat or drink, or whatever you do, do all to the glory of God.
1 Corinthians 10:31
Give not to meet an obligation or out of duty, but to glorify God.
If I speak in the tongues of men and of angels, but have not love, I am a noisy gong or a clanging cymbal. And if I have prophetic powers, and understand all mysteries and all knowledge, and if I have all faith, so as to remove mountains, but have not love, I am nothing. If I give away all I have, and if I deliver up my body to be burned, but have not love, I gain nothing.
1 Corinthians 13:1–3
A reminder to give from a heart of love.
Now concerning the collection for the saints: as I directed the churches of Galatia, so you also are to do. On the first day of every week, each of you is to put something aside and store it up, as he may prosper.
1 Corinthians 16:1–2a
Giving should be planned, not sporadic, and be reflective of how the Lord has prospered us.
We want you to know, brothers, about the grace of God that has been given among the churches of Macedonia, for in a severe test of affliction, their abundance of joy and their extreme poverty have overflowed in a wealth of generosity on their part.  For they gave according to their means, as I can testify, and beyond their means, of their own accord, begging us earnestly for the favor of taking part in the relief of the saints—and this, not as we expected, but they gave themselves first to the Lord and then by the will of God to us.
2 Corinthians 8:1–5
The Macedonian church gave themselves to the Lord first, then gave generously even when they were lacking themselves.
Now it is superfluous for me to write to you about the ministry for the saints, for I know your readiness, of which I boast about you to the people of Macedonia, saying that Achaia has been ready since last year. And your zeal has stirred up most of them.

2 Corinthians 9:1–2
One church's giving to support ministry lit a fire in other churches. Is it easy to see your church's readiness to support ministry?
The point is this: whoever sows sparingly will also reap sparingly, and whoever sows bountifully will also reap bountifully. Each one must give as he has decided in his heart, not reluctantly or under compulsion, for God loves a cheerful giver. And God is able to make all grace abound to you, so that having all sufficiency in all things at all times, you may abound in every good work.
2 Corinthians 9:6–8
This well-known passage on giving speaks loud and clear.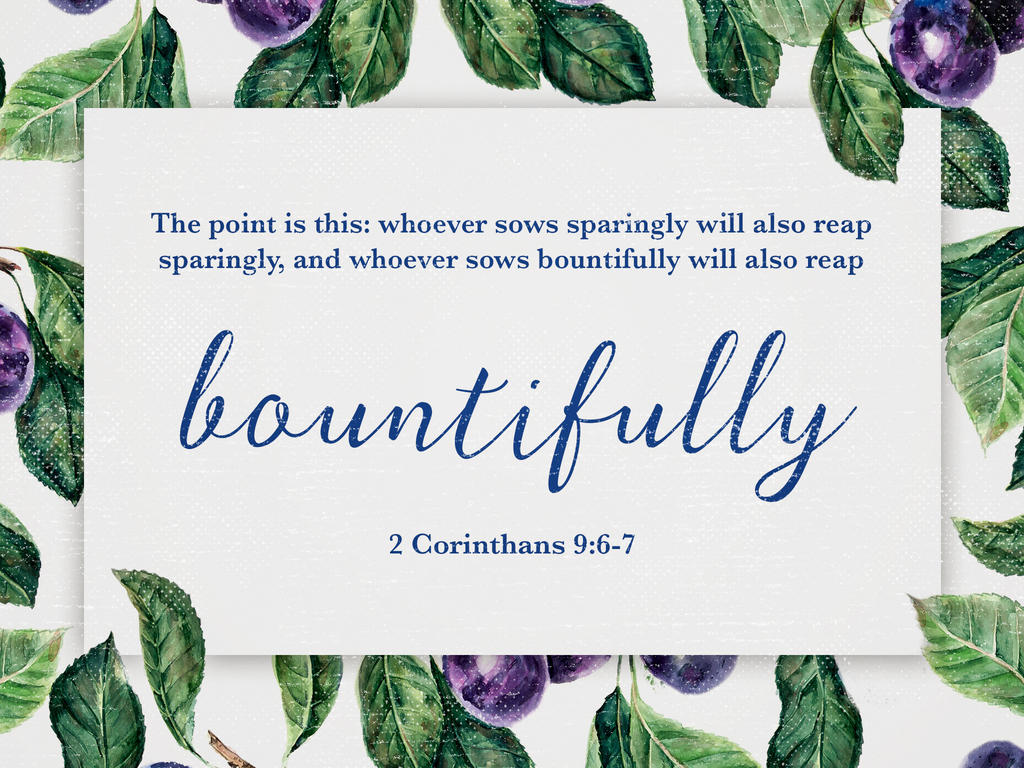 He who supplies seed to the sower and bread for food will supply and multiply your seed for sowing and increase the harvest of your righteousness. You will be enriched in every way to be generous in every way, which through us will produce thanksgiving to God. For the ministry of this service is not only supplying the needs of the saints but is also overflowing in many thanksgivings to God.
2 Corinthians 9:10–12
God gives us the grace to be generous, and that generous giving is a way to say thank you to him.
Do not be deceived: God is not mocked, for whatever one sows, that will he also reap. For the one who sows to his own flesh will from the flesh reap corruption, but the one who sows to the Spirit will from the Spirit reap eternal life. And let us not grow weary of doing good, for in due season we will reap, if we do not give up. So then, as we have opportunity, let us do good to everyone, and especially to those who are of the household of faith.
Galatians 6:7–10
Giving tithes and offerings with hope for how God will use it is sowing to the Spirit, and this hopeful giving empowers the Church to collectively sow to the Spirit as it does good.
I know how to be brought low, and I know how to abound. In any and every circumstance, I have learned the secret of facing plenty and hunger, abundance and need. I can do all things through him who strengthens me. Yet it was kind of you to share my trouble. And you Philippians yourselves know that in the beginning of the gospel, when I left Macedonia, no church entered into partnership with me in giving and receiving, except you only. Even in Thessalonica you sent me help for my needs once and again. Not that I seek the gift, but I seek the fruit that increases to your credit.
Philippians 4:12–17
Don't skip over that last verse—the opportunity to give is a blessing.
Let the elders who rule well be considered worthy of double honor, especially those who labor in preaching and teaching. For the Scripture says, "You shall not muzzle an ox when it treads out the grain," and, "The laborer deserves his wages."
1 Timothy 5:17–18
The church should support pastors and missionaries through giving.
As for the rich in this present age, charge them not to be haughty, nor to set their hopes on the uncertainty of riches, but on God, who richly provides us with everything to enjoy. They are to do good, to be rich in good works, to be generous and ready to share, thus storing up treasure for themselves as a good foundation for the future, so that they may take hold of that which is truly life.
1 Timothy 6:17–19
The call to generosity is unmissable.
Do not neglect to do good and to share what you have, for such sacrifices are pleasing to God. 
Hebrews 13:16
Giving tithes and offerings pleases God.
What good is it, my brothers, if someone says he has faith but does not have works? Can that faith save him? If a brother or sister is poorly clothed and lacking in daily food, and one of you says to them, "Go in peace, be warmed and filled," without giving them the things needed for the body, what good is that? So also faith by itself, if it does not have works, is dead.
James 2:14–17
Saying that we trust God to provide—but then not giving—is refusing to put feet to our faith.
But be doers of the word, and not hearers only, deceiving yourselves.
James 1:22
Knowing what the Bible says about giving is only part of it. We then have to give.