R.C. Sproul, beloved theologian, writer, and pastor, went to be with the Lord in the afternoon of December 14th. He founded Ligonier Ministries in the 1970s to provide theologically rich Christian teaching to people with little or no access to it. Using radio, print, and television media, Sproul introduced many people to the Reformed theology, advocating for a revival of Calvinism among evangelicals.
Among Sproul's written works, The Holiness of God and Chosen by God have risen to the top. They are among the most influential Reformed works of the twentieth century. His emphasis on the sovereignty of God and election fueled the flames of the New Calvinism. In honor of the legacy of R.C. Sproul, here are some of his most inspiring quotes on the glory of God in all of life.
Sproul, who always loved to explain phrases from theological Latin, was in favor of a life lived coram Deo (in God's presence) and soli Deo gloria (for the glory of God alone):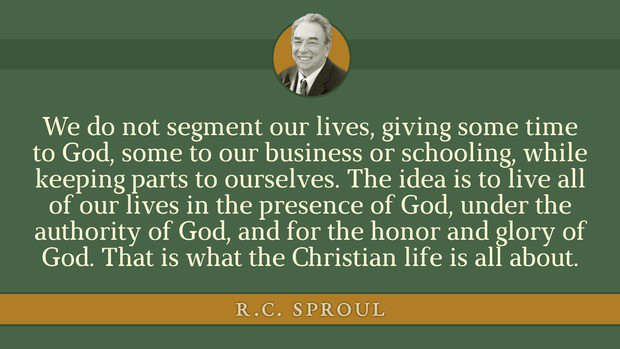 "We do not segment our lives, giving some time to God, some to our business or schooling, while keeping parts to ourselves. The idea is to live all of our lives in the presence of God, under the authority of God, and for the honor and glory of God. That is what the Christian life is all about."
"Prayer does change things, all kinds of things. But the most important thing it changes is us. As we engage in this communion with God more deeply and come to know the One with whom we are speaking more intimately, that growing knowledge of God reveals to us all the more brilliantly who we are and our need to change in conformity to Him. Prayer changes us profoundly." (from The Prayer of the Lord)
"God just doesn't throw a life preserver to a drowning person. He goes to the bottom of the sea, and pulls a corpse from the bottom of the sea, takes him up on the bank, breathes into him the breath of life and makes him alive."
His Reformed theology paid careful attention to the theological accuracy but was always suffused with evangelical warmth: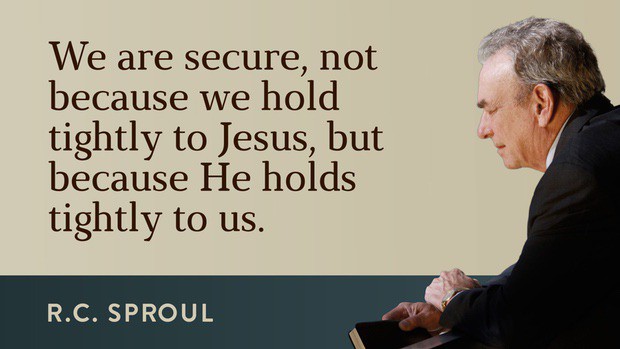 "We are secure, not because we hold tightly to Jesus, but because He holds tightly to us."
"The pursuit of God is not a part-time, weekend exercise. If it is, chances are you will experience a part-time, weekend freedom. Abiding requires a kind of staying power. The pursuit is relentless. It hungers and thirsts. It pants as the deer after the mountain brook. It takes the kingdom by storm…The pursuit of God is a pursuit of passion. Indifference will not do. To abide in the Word is to hang on tenaciously. A weak grip will soon slip away. Discipleship requires staying power. We sign up for duration. We do not graduate until heaven."
"God did not die. The God who took on Himself a human nature died in His humanity, but the deity did not perish on the cross."
"The clearest sensation that a human being has when he experiences the holy is an overpowering and overwhelming sense of creatureliness. That is, when we are in the presence of God, we are humbled and become most aware of ourselves as creatures. This is the opposite of Satan's original temptation, "You shall be as gods."
"The most violent expression of God's wrath and justice is seen in the Cross. If ever a person had room to complain for injustice, it was Jesus. He was the only innocent man ever to be punished by God. If we stagger at the wrath of God, let us stagger at the Cross. Here is where our astonishment should be focused."
"We want to be saved from our misery, but not from our sin. We want to sin without misery, just as the prodigal son wanted inheritance without the father. The foremost spiritual law of the physical universe is that this hope can never be realized. Sin always accompanies misery. There is no victimless crime, and all creation is subject to decay because of humanity's rebellion from God."
"There are times when we suffer innocently at other people's hands. When that occurs, we are victims of injustice. But that injustice happens on a horizontal plane. No one ever suffers injustice on the vertical plane. That is, no one ever suffers unjustly in terms of his or her relationship with God. As long as we bear the guilt of sin, we cannot protest that God is unjust in allowing us to suffer."
"If you don't delight in the fact that your Father is holy, holy, holy, then you are spiritually dead. You may be in a church. You may go to a Christian school. But if there is no delight in your soul for the holiness of God, you don't know God. You don't love God. You're out of touch with God. You're asleep to his character."
"There are only two ways that God's justice can be satisfied with respect to your sin. Either you satisfy it or Christ satisfies it. You can satisfy it by being banished from God's presence forever. Or you can accept the satisfaction that Jesus Christ has made."
"God's grace is not infinite. God is infinite, and God is gracious. We experience the grace of an infinite God, but grace is not infinite. God sets limits to His patience and forbearance. He warns us over and over again that someday the ax will fall and His judgment will be poured out."
"We tend to have mixed feelings about the holy. There is a sense in which we are at the same time attracted to it and repulsed by it. Something draws us toward it, while at the same time we want to run away from it. We can't seem to decide which way we want it. Part of us yearns for the holy, while part of us despises it. We can't live with it, and we can't live without it."
"The most brazen lie of all is the lie people tell themselves: "I have nothing to worry about from the wrath of God. My God is a God of love." If that is your thought, your god is an idol."
"If I thought even for one moment that a single molecule were running loose in the universe outside the control and domain of almighty God, I wouldn't sleep tonight."
"How can we love a holy God? The simplest answer I can give to this vital question is that we can't. Loving a holy God is beyond our moral power. The only kind of God we can love by our sinful nature is an unholy god, an idol made by our own hands. Unless we are born of the Spirit of God, unless God sheds His holy love in our hearts, unless He stoops in His grace to change our hearts, we will not love Him."
"God is serious about how we worship Him, and we must be serious about it, too."
"The kingdom of God is not of the people, by the people, or for the people. It is a kingdom ruled by a King, and God does not rule by the consent of His subjects but by His sovereign authority. His reign extends over me whether I vote for Him or not."
"The vocation of dying is a sacred vocation. To understand that is one of the most important lessons a Christian can ever learn. When the summons comes, we can respond in many ways. We can become angry, bitter or terrified. But if we see it as a call from God and not a threat from Satan, we are far more prepared to cope with its difficulties."
Was This Article Helpful?