Alright, I'll admit that I am a word nerd, especially when it comes to Greek conjunctions. These are the function words like "therefore" and "because" that tell you how to connect one statement with the one that follows. If you look at Dan Wallace's description in Greek Grammar Beyond the Basics, you'll quickly see that there are a number of places where the Greek conjunctions don't match up very well with a single English counterpart. This is where drilling down on the word can really pay some dividends.
I was asked recently about the different uses of γάρ, so I'll illustrate with this. In the Discourse Grammar of the Greek New Testament, I claim that γάρ introduces something that strengthens or supports what precedes. Most of the memory verses we learn begin with "for" like John 3:16, Romans 3:23, Ephesians 2:8-9, the list could go on for a long time. If you run a Bible Word Study, the "Translation" portion of the report will quickly show you that γάρ is nearly always translated as "for".
Clicking on any of the other words will pull up a list of those instances where γάρ was translated with something else. I clicked on "indeed" (screenshot), resulting in the list of the six instances where the ESV translated it this way. If I wanted to find out what other Greek words are translated as "for", I just need to hover over the blue part of the ring labeled "for".
Doing so give me all this information in a convenient pop-up. Another way to get the same information is to run a Bible Word Study report on "for", it will give you the same information as the preview (screenshot). Another helpful way of getting at the same kind of information is to do a Morphology Search. All you need to do is click the "Search" tab, select "Morph" in the upper right corner, then select the text you want to search from the pull-down menu. I am using the Nestle-Aland 27th (NA27) with Logos morphology. This search will show me every occurrence of γάρ in the Greek NT. (screenshot)
In the upper right hand corner of the results window in one of my favorite Logos 4 features, a tool that has had a huge impact on how efficiently I can find what I am looking for—the "Analysis" tab. What this does is allow me to organize all of the results (1041 of them!) based on all of the different kinds of information that can be known about that word. Take a look. (screenshot)
All I need to do to reorganize the results by something other than the canonical order in which they occur is to grab one of the column headers and drag it to the space where the gray text indicates. I can organize by follows by dragging the "Next Context", Louw-Nida sense, part of speech, or any other kind of information which is annotated to this word in this text. I want to show off a cool aspect of the Logos Morphology, so I'll drag that over. The Logos Morph subdivides conjunctions based on the function that they perform in the text. The function in the context is one of the biggest determiners of how the word will be translated. (screenshot)
One last thing that really makes this report useful—the ability to hide results. This lets me see at a glance just how many times γάρ functions in one role versus another. All I need to do is click the arrow next to "adverbial causal" or any other heading to hide the detail. Here's what I get: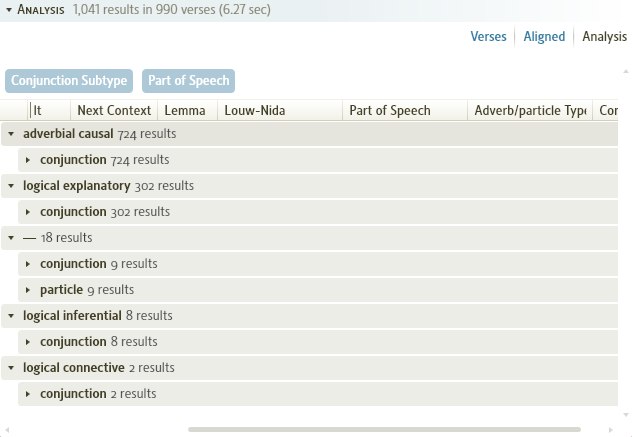 I can learn from this that the primary function of γάρ is as an adverbial conjunction indicating cause, whereas the other major use is as an logical conjunction with an explanatory sense. If I do not know what exactly these terms mean, I can unhide the verses and take a look at the difference in one passage versus another. I was curious about when γάρ is considered a "particle" so I unhide them to see if I could find a pattern. (screenshot)
Everyone one of the occurs in a question introduced by τί or μή. This made me wonder if there were instances where these question words preceded γάρ where it was not considered a particle but a conjunction. All I need to do is drag the "Conjunction Sub-type" and "Part of Speech" off the header, and replace it with "Previous context." Then I hide the results that I am not interested in to narrow down what I am looking at. (screenshot)
It turns out that there are quite a few I would have missed in the other view. Now I will grant you that I am a huge word nerd, but try fooling around with the "Analysis" view next time you do a search. If you are doing a Bible Word Study, try jumping off a cliff by copying and pasting the lemma into the Morph search, and analyzing the results. Who knows, you might find some of the wonderful benefits of being a word nerd!
You should follow us on Twitter
here
.