Ever come across a cross-reference and wanted to see at a glance how it relates to the passage you're studying? Or filter the Proverbs based on the type of advice the writer is giving, and to whom he's giving it? If so, you're looking for information that we've pulled together in a dataset on Logos, which you can use to discover helpful stuff right away.
Until now, you would have to open a series of tools and guides to find what you're looking for. But with Logos 9, you can enter a word or phrase right into the new Factbook. Take the word "love," for example. Type it into the Factbook, and you'll see incredible results right away.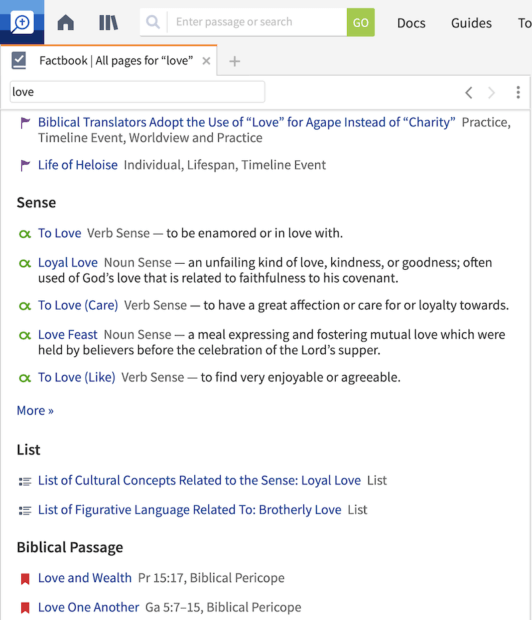 With Logos 9, we've pulled all the information in our datasets together and made it accessible directly from the Factbook, bringing new subjects and new types of pages to this incredibly powerful tool so that it features roughly 10 times the total number of pages Logos 8 had.
Now, no matter whether you're looking for more detail about a biblical person, place, significant event, or theological topic—or searching for Greek lemmas, Bible word senses, counseling themes, or biblical pericopes—you can start your study in the Factbook.
You can even enter a word or phrase you want to search for (whether it's the Greek lemma ἀγάπη or the counseling topic "Love") right in the Go box.
Logos will instantly pull up relevant results from the Factbook and other tools. It's that easy!
See how Factbook makes researching almost anything in Logos a snap:
To learn more about the improved Factbook (available in Logos Starter and up) or any of the other new and improved features of Logos 9, visit the Logos Help Center.
Thanks for your feedback!