Today's post is from Morris Proctor, certified and authorized trainer for Logos Bible Software. Morris, who has trained thousands of Logos users at his two-day Camp Logos seminars, provides many training materials.
As with a physical desk or a kitchen table, you can arrange your resources on the Logos desktop any way you want. Imagine you've meticulously moved books to just the right positions: Bible here, commentary there, dictionary in that corner, and so on. Then, unexpectedly, the Logos application closes, by design or accident. Or you're on an airplane, and it's time to turn off and stow all electronic devices. Or you mistakenly close the program. Or, for no apparent reason, your computer just decides to reboot.
Is all your desktop organization lost? Fortunately, no. Logos takes a snapshot of the desktop as the program closes. Try this:
Arrange the Logos desktop just like you want it.
Exit the program, but don't close anything on the desktop.
Reopen Logos.
Choose the Layouts menu. (A)
Notice a snapshot called Application Closed on the right-hand side of the drop-down menu. (B)
Click the above-mentioned Application Closed snapshot to return to that Logos desktop!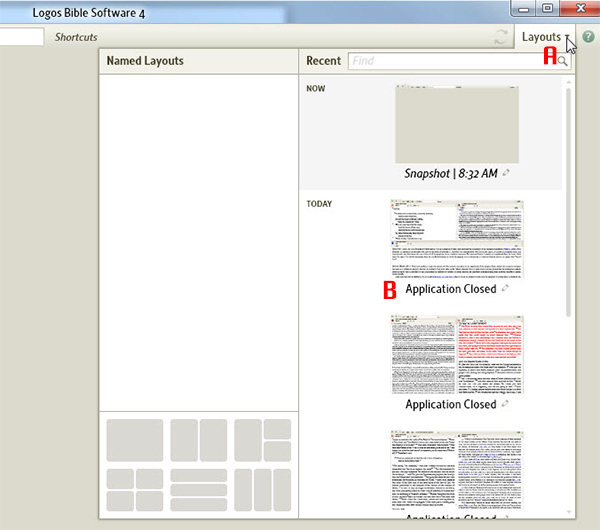 Logos saves and lists up to 10 Application Closed snapshots. If this feature isn't present on your computer, make sure to update your software to the recently released 4.6 version, which contains this new component.