Today's post is from Morris Proctor, certified and authorized trainer for Logos Bible Software. Morris, who has trained thousands of Logos users at his two-day Camp Logos seminars, provides many training materials.
Years ago, my mentor, Rob Morgan, taught me that the first step in Bible study is to read the text. The second step is to read it again. The third step is to read it some more. It's amazing how much we can learn from a passage if we repeatedly and carefully read it. Sometimes, though, during our initial reading we need some clarification about a word or some background information about a person or place. We're not quite ready for in-depth study with study guides, lexicons, commentaries, and dictionaries, but some quick help sure would be nice. During these times, we need to practice power reading with the Information panel:
Open an English-language Bible containing the reverse interlinear feature, such as the ESV, NASB, KJV, NKJV, or NRSV. (1)
Choose the Tools menu. (2)
Drag the Information tool to the right-hand side of the screen so that it opens in its own large tile. (3)
Navigate to a passage of Scripture. (4)
Rest the cursor on a word in the Bible. (5)
Notice instant information appearing in the Information panel. (6)
Move the cursor to another word and watch the data change.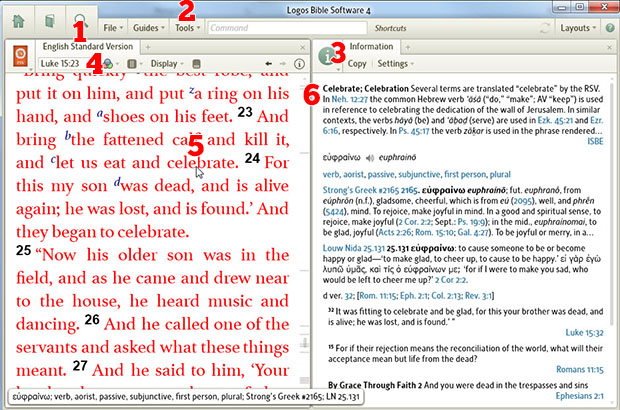 If the information is changing too quickly for you:
Click the Settings link on the Information panel. (7)
Select Update information on: click. (8)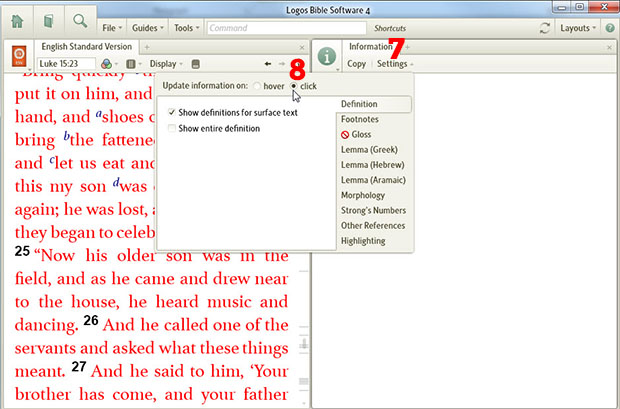 Now you'll have to click a word in the Bible to get the information to change. In addition, in the Settings menu, you can adjust the resources that are used in the Information panel.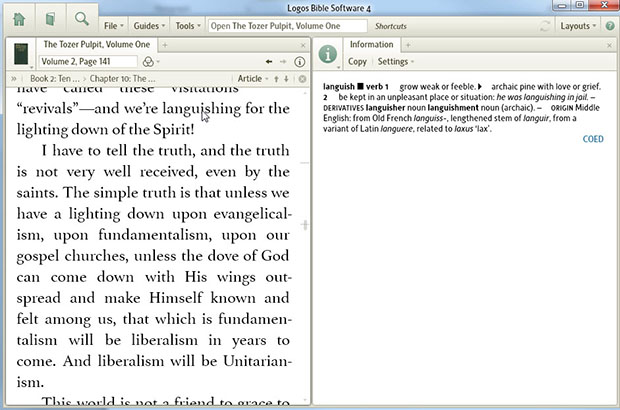 Try using this feature when you're just reading a "normal" book. Having an instant dictionary close at hand can be beneficial!