Today's blog centers on a question from a Logos user:
I'm working through 2 Corinthians and, in 9:8, Paul refers to "good work" (singular). When I execute a phrase search, I also get "good works" (plural). What setting am I missing that limits the search to just the singular or plural form?
The answer to the question is called match all word forms in your Search panel, and it applies equally to simple word searches as well as phrase searches.
Check this out:
Click the Search icon in the Go box to open the Search panel
Select Bible as the search type
Designate the verse range to New Testament
Select your desired Bible from the drop-down list
Type this query in the box: "good work"
Press the Enter/Return key to generate the results
Notice in my image I have both the singular and plural forms of the phrase.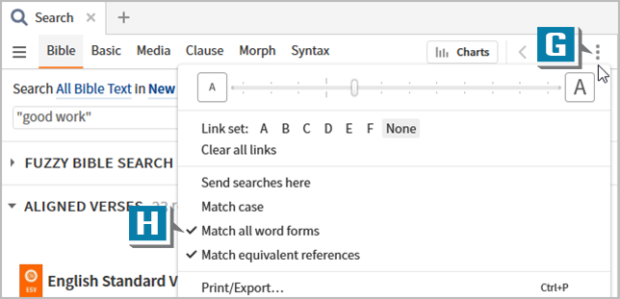 Choose the panel menu (three vertical dots) in the upper right of the Search panel
Notice in my image Match all word forms is selected
Deselect Match all word forms
Notice the results shift to only the singular form of the phrase.
This setting is almost "out of sight out of mind," but it's an important one to be aware of. Also, keep in mind the Search panel maintains your selection when it is closed and reopened.
For more detailed instructions about Searching, please consider a subscription to mpseminars.com, where you'll find thousands of videos to help you become proficient in both the desktop and mobile formats of Logos Bible Software!