Writing research papers is an excellent way to learn because it trains you to gather information, interpret it, and persuasively present an informed opinion. The process teaches you a great deal, but it also equips you to contribute to ongoing discussions on a given topic.
Here's the basic process of writing a research paper on a biblical or theological topic, either for a class or for your own personal research. Start at the top, or skip to what topic interests you most.
Pick a Topic
Choosing the topic you want to research is often easier said than done. But perhaps the best advice to get the ball rolling is to narrow your scope. When your topic is too broad, you'll likely find too much information (much of it unhelpful). But when your topic is appropriately focused, you can hone in on the information you need to gather and get down to the business of interpreting it.
For example, choosing to write a paper on the topic of sanctification is too broad to be helpful. But if you narrow your focus to a specific question about sanctification (for example: How do spiritual disciplines contribute to our sanctification?), you'll find better direction for your research.
Remember, you don't have to be an expert on the question you want to find an answer to—that's what the research process will accomplish. You should, however, have an interest in the question and in finding an answer (or several!) to it.
For more on the process of researching and writing a paper, check out these resources:
Logos Theological Topic Workflow
The Theological Topic Study Workflow in Logos guides you through the steps of studying a theological topic. It taps into the Lexham Survey of Theology and the built-in Theology Guide to give you the topic's broader context, basic concepts, and issues associated with the topic. Review the biblical support and go deeper in your theological study by reading relevant sections from systematic theologies.
Research Your Topic
With your topic selected, it's time to find the resources you're going to use and dig into them. You may find that one resource offers the best discussion of your topic, but you can't stop there! Researching well means considering opinions that differ from each other (and probably from your own). It's in the conversation that emerges from engaging with multiple perspectives on a topic that real insight and understanding emerge.
Start the research phase by reviewing literature and building your bibliography, then consult standard sources and peer-reviewed journals.
1. Conduct a literature review and build your bibliography
The process of conducting a literature review and building a bibliography is an iterative process. It's not a one-time step but a step you'll return to repeatedly as you move through your research.
Essentially, in this step, you're discovering what resources exist and cataloging them. As you begin to read the resources you discover, you'll likely find references to other works that you'll then want to read.
The Topic Guide gathers information from your library about a topic or concept. Using the Logos Controlled Vocabulary dataset, the guide finds topics in your Bible dictionaries and other resources that correspond to the key term you enter.
2. Consult standard sources
Encyclopedias, commentaries, theological dictionaries, concordances, and other theological reference tools contain useful information that will orient you to the topic you've selected and its context, but their biggest help to you at this stage will in their bibliographies. Be sure to check the cross-references often.
The Oxford Dictionary of the Christian Church, since its first appearance in 1957, has established itself as the indispensable one-volume reference work on all aspects of the Christian Church. This Revised Edition, published in 2005, builds on the unrivaled reputation of the previous editions. Revised and updated, it reflects changes in academic opinion and Church organization.
The Encyclopedia of Ancient Christianity covers eight centuries of the Christian church and comprises 3,220 entries by a team of 266 scholars from 26 countries representing a variety of Christian traditions. It draws upon such fields as archaeology, art and architecture, biography, cultural studies, ecclesiology, geography, history, philosophy, and theology.
This monumental reference work, complete in ten volumes, is the authorized and unabridged translation of the famous Theologisches Wörterbuch zum Neuen Testament, known commonly as "Kittel" and considered by many scholars to be the best New Testament dictionary ever compiled.
3. Consult peer-reviewed journals
Even if you're writing on a single text (like John 15:1–8 or Dionysius the Pseudo-Areopagite's The Divine Names), you need to see what your contemporaries have to say about it to situate your research in its context. This means consulting peer-reviewed journals. As you read, you'll discover where scholars agree and disagree and how the study of that topic has advanced over time.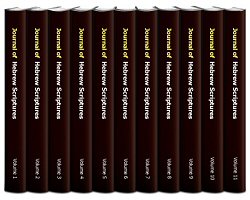 The Journal of Hebrew Scriptures is an academic, peer-reviewed journal devoted to the study of the Hebrew Bible, and provides a forum for critical scholarly exchange. You'll find hundreds of articles from top Hebrew scholars on trends in Hebrew and Old Testament scholarship, including historical, literary, textual, and interpretive topics.
Construct an Outline
This step is incredibly important, but it's often overlooked. Start by refining your topic based on your research, then arrange your notes and research materials into a clear outline that will guide you toward a convincing and coherent argument.
See chapters 8 and 9 of The Craft of Research for more guidance on constructing your outline.
Draft Your Paper
You are now ready to draft your paper. Your initial focus is to expand your outline into paragraph form as straightforwardly as possible. While your outline will be essential as you draft, you don't have to stick to it absolutely. You may discover as you write that a different structure or organization will better advance your argument. While you're at it, add relevant quotations from your research to clarify your points or support your arguments.
Revise and Refine
Notice the word "draft" in the previous step. That word is intentionally selected because, arguably, the most important part of the writing process is in your revisions. Drafting gets the ball rolling, but revising is where you refine and revise your previous drafts, ensuring your argument is clear and forceful.
Before you send your final paper, you'll want to make sure you're writing clearly and using the right style. If you are in school, follow the rules of your academic handbook. If not, adopt a common style guide like APA, Turabian, or the SBL Handbook of Style, and consult online guides like EasyBib or the Chicago Manual of Style for help. You can also find helpful writing advice in The Elements of Style.
If there are multiple paragraphs, just add another paragraph tag. If you need more padding, use an additional text block section as you see below.
Conclusion
While this structure is helpful, you may find that some variation of it works better for you. Go with what works because, at the end of the day, a thoroughly researched and well-written paper is what you're after.
See how Logos can power research and aid you in the writing process.