Every six weeks or so, the developers of Logos update our software. Some of the changes are major, like the redesigned Context menu, while others are behind the scenes, like bug fixes. A case in point occurred in the recent 8.9 update. A small but helpful improvement was made regarding selecting words in resources.
Give this a go:
Open any resource from your Library (A)
Choose the Help menu in the upper right of the program (B)
Select Program Settings (C)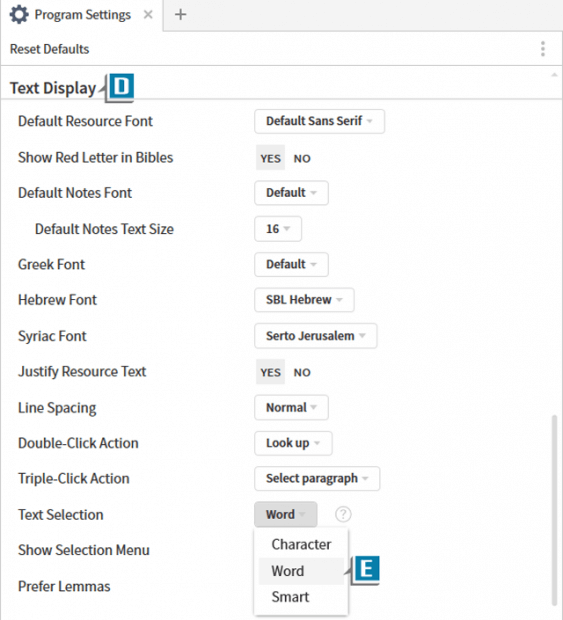 Navigate to the Text Display section (D)
Select Word (or Smart) from the Text Selection drop-down list (E)
Start selecting (highlighting) a word in the resource
Notice the selection quickly and easily snaps to the entire word (F)
You're perhaps now wanting to ask me: Moe, are you seriously devoting an entire blog to this? Actually yes, because in 8.9 this almost unnoticeable tweak makes life easier when we want to select text to copy.
Now, here's a power user trick you want to remember:
Let's say we set Text Selection to Word or Smart, but we now need to select only part of a word (such as leaving the "s" off of a plural word). We don't need to open Program Settings and select Character from the Text Selection list.
All we need to do is hold down a key as we select text:
PC: Alt key
Mac: Option key
With that key pressed, start selecting resource text and you'll only be selecting one character at a time!
Please file this little trick away, because there's coming a day you'll need it.
For more detailed instruction about all of the Logos 8 updates, please check out mpseminars.com.
For live, hands-on training, make sure to register for Camp Logos.
And don't forget to follow Faithlife.com/mpseminars and you'll automatically receive a FREE digital download of Dr. Grant Osborne's commentary Ephesians Verse by Verse.
***