Classical training for modern ministry: full Knox, Logos scholarship for new online M.A.
NEWS RELEASE
Knox Theological Seminary, Logos Bible Software partner to offer $18,000 scholarship for unprecedented Master of Arts (Christian and Classical Studies); students to learn from the greatest minds
— Plato, Augustine, Shakespeare, Luther ...
BELLINGHAM, Wash., October 18, 2012 — This winter, Knox Theological Seminary and Logos Bible Software are partnering to launch the two-year Master of Arts (Christian and Classical Studies) program, which draws on the wisdom of the ages to address the needs of the present. The online MACCS degree combines sound biblical studies and the classical training of the Great Books in a contemporary discussion for ministry. One student will win the $18,000 Francis Schaeffer Scholarship.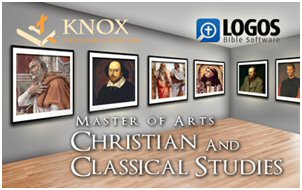 "The rich and robust curriculum provided through Knox's online Master of Arts (Christian and Classical Studies) program is unparalleled by that of any other seminary in the world," says Knox Theological Seminary Director of Communications Ivey Rose Smith. "It allows students from all backgrounds to experience the powerful and transformational training of the Great Books through a scriptural lens."
This 48-hour program dedicates at least 18 hours to reading the best writers and greatest books in the Western philosophical and literary tradition, as opposed to mere commentaries or summaries. Knox graduates will read and study Aristotle, Aquinas, Machiavelli, Dante, Dostoyevsky, Hobbes, Tocqueville, Nietzsche and many others — all in a Christian cultural context. Students will become conversant in the dialogue between the Bible, the Great Conversation and the Great Commission.
"The MACCS courses are designed to immerse students simultaneously in Scripture, in church history, in biblical studies and in the great conversation of the ages, to which Scripture speaks more eloquently than any other source," Smith adds. "This program is a classical preparation for the highest calling of all: the Gospel ministry of the Lord Jesus Christ."
Graduates will be equipped with historical perspective, a philosophical habit of mind, a moral imagination and rhetorical skill. They will articulate Christian and non-Christian worldviews and learn to engage the culture both poetically and philosophically.
The deadline to apply is January 1. Qualified students begin MACCS online classes January 14. Apply through November 30 for the comprehensive Francis Schaeffer Scholarship, which covers tuition, software and fees.
For more information on Knox's Master of Arts (Christian and Classical Studies), click here
In addition to the MACCS, Knox and Logos offer a joint Master of Arts (Biblical and Theological Studies) and a Doctor of Ministry in Preaching and Teaching — one-of-a-kind programs designed to equip ministry leaders with first-rate theology and first-class technology. The curriculum for each program is based in Logos Bible Software and delivered by some of the world's foremost Bible scholars.
Knox and Logos are giving away $1.6 million across multiple degree programs through the Digital Scholar's Fund. The first 100 qualified students to apply and enroll for the MACCS' spring 2013 semester will win partial scholarships worth more than $2,000.
Logos Bible Software is the leading provider of multilingual tools and resources for Bible study on Macs, PCs and mobile devices. Logos has served pastors, scholars and everyone who wants to study the Bible since 1992, partnering with 150 publishers to offer more than 30,000 Christian ebooks to users in 210 countries.
Contact Logos Media Relations at 800-875-6467 or media@logos.com, or visit www.logos.com/press