As I've talked to Christians throughout the years, I've often heard statements like: Theology is just for pastors. I'd like to study different doctrines in the Bible, but I don't know where to start. Understanding doctrine is difficult.
If you've ever expressed such sentiments, I've got great news for you. In Logos 8 we have a brand-new research assistant called the Theology Guide. This Guide, based on the resource, Lexham Survey of Theology, assembles various pieces of information in one place so we gain a good survey of major doctrines in Scripture.
Let's take it out for a spin:
Choose Guides | Theology Guide (A)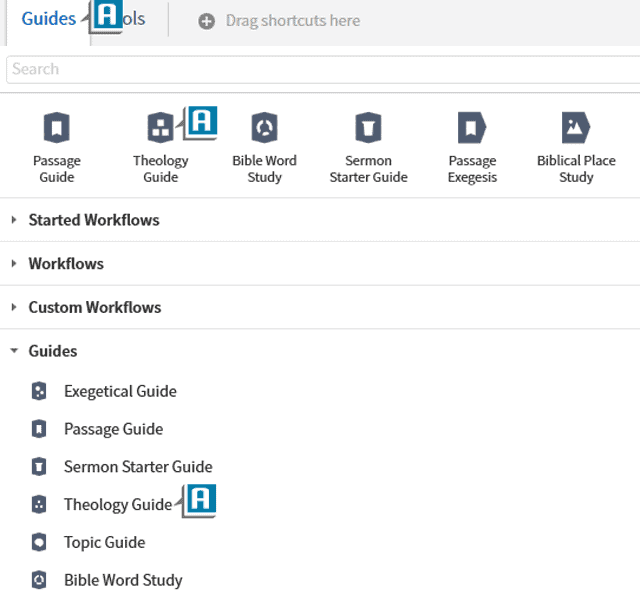 Type a subject like Resurrection in the Theological topic box (B)
Select Jesus' Resurrection in the drop-down list (C)
Use the various sections in the Guide to explore this theological subject (D)
Please notice close to the top of the report a link to the Lexham Survey of Theology. (E)
I encourage you to use this link to open and become familiar with this resource. (F) In fact, this is a book you may want to read from beginning to end. As its name implies, this book provides us with a great overview of major doctrines in the Bible. Also, you'll discover that the Theology Guide summarizes and links us to chapters in the book. The resource and the Guide go hand in hand as they offer a great introduction to a study of theology.
For more detailed instruction about the Theology Guide as well as all the new Logos 8 features, please subscribe to mpseminarsonline.com where you'll find over 150 videos just about new Logos 8 enhancements.
For live hands-on training, please register for an upcoming Camp Logos in Phoenix, AZ November 28–30 or Murfreesboro, TN December 10–12.
Remember to follow Faithlife.com/mpseminars and you'll automatically receive a FREE digital download of Dr. Grant Osborne's commentary Ephesians Verse by Verse.
***

Morris Proctor is a certified trainer for Logos Bible Software. Morris, who has trained thousands of Logos users at his two-day Camp Logos seminars, provides many training materials.
Was This Article Helpful?