As you well know, words are the building blocks of Scripture. If we're going to study or exegete a passage we have to examine words. Perhaps, in an ideal world, we would thoroughly explore every word in the text. If, however, we're only going to dig deep on some words, the question becomes, which ones?
While there's certainly no definitive answer that applies equally to all passages, there's a new feature in Logos 8 that may offer some guidance.
It's called Important Words and here's how it works:
Choose Guides | Passage Guide (A)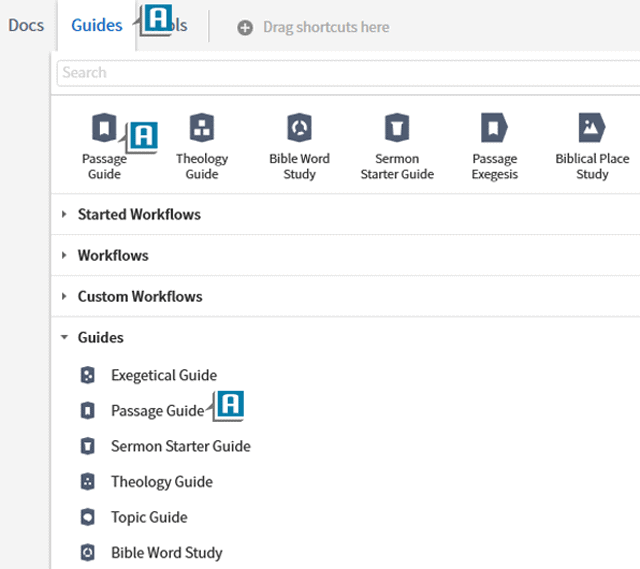 Type a passage like Acts 1:8 in the Reference box (B)
Press the Enter key to generate the report
Expand the Important Words section if it isn't already (C)
Notice a list of lemmas (dictionary forms of words) in section (D)
Remember these facts as you work with Important Words:

Logos searches ALL of the commentaries in its vast catalog, not just the ones you own
Logos identifies all of the Hebrew/Greek lemmas discussed in the commentaries
Logos lists the most frequently discussed lemmas found in commentaries covering the passage under study
Using the facts just listed, the Greek lemma meaning witness is the most frequently discussed Greek lemma in commentaries for Acts 1:8! (E)
As you can see, Important Words is not based on grammar, discourse, or theology, but rather the frequency of discussion in commentaries. So with this in mind, use it to examine lemmas most often mentioned in commentaries or even go the other route and examine words commentators perhaps overlook!
For more detailed instruction about Important Words and all the new Logos 8 features, please subscribe to mpseminarsonline.com where you'll find over 150 videos just about new Logos 8 enhancements.
For live hands-on training, please register for an upcoming Camp Logos in Phoenix, AZ November 28–30 or Murfreesboro, TN, December 10–12.
Remember to follow Faithlife.com/mpseminars and you'll automatically receive a FREE digital download of Dr. Grant Osborne's commentary Ephesians Verse by Verse.
***

Morris Proctor is a certified trainer for Logos Bible Software. Morris, who has trained thousands of Logos users at his two-day Camp Logos seminars, provides many training materials.