Even though we're well into the digital and e-book age, I often still hear Logos users comment they prefer reading from print volumes when covering a large number of pages. I certainly can identity. There's just something about the feel of the printed page.
I have discovered, however, I can quickly and effectively cover a lot of ground in a resource, right from the computer screen (I'm not referring to the mobile app here). Here are some tips I've found helpful when reading Logos resources:
Open a Logos resource in which you're going to read a lot of pages such as a commentary, theology book, journal, etc.
Enlarge the resource panel so that it fills the desktop
Choose the panel menu on the resource (A)
Move the text size sliding bar to the right so the text size is quite large (B)
Adjust the number of Columns to 2, 3, or more so that the resource text resembles a newspaper article (only a few words per line) (C)
Make sure the panel menu is closed
Press the Spacebar on the keyboard which is the equivalent of Page Down (Shift + Spacebar = Page Up)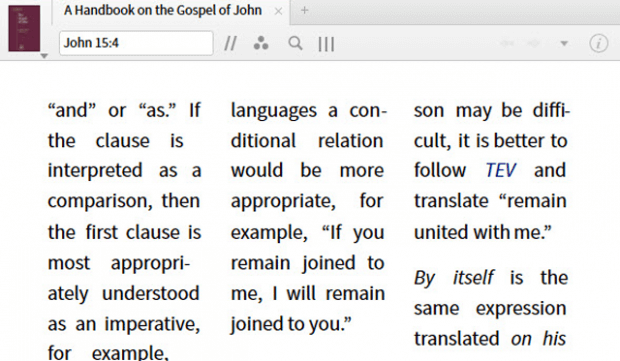 By employing large text size, columns, and the Spacebar I can move through a book quickly while not experiencing eye fatigue!
For more detailed information about altering the resource text, please check out the Logos 7 Bible Software Training Manual Bundle available in both print and digital formats.
Also, for an exciting and quick way to learn the software, attend an upcoming Camp Logos in Colorado Springs, CO May 22 -24!

Morris Proctor is a certified trainer for Logos Bible Software. Morris, who has trained thousands of Logos users at his two-day Camp Logos seminars, provides many training materials.
Thanks for your feedback!