Today's post is from Morris Proctor, certified and authorized trainer for Logos Bible Software. Morris, who has trained thousands of Logos users at his two-day Camp Logos seminars, provides many training materials.
In most of my Monday posts, I try to encourage new Logos users with features that more seasoned users may have already discovered. Today, however, I want to pass along a time-saving shortcut that's applicable if you've already discovered the benefit of layouts. So if you're already on your way to being a power user, this is for you.
If you employ layouts, you know that when changes are made to the active layout, you must update the layout in order for those changes to be saved. This normally requires going to the Layouts menu and selecting an update link. Instead, try this update shortcut:
Type this text in the Command box: update active layout (

A

).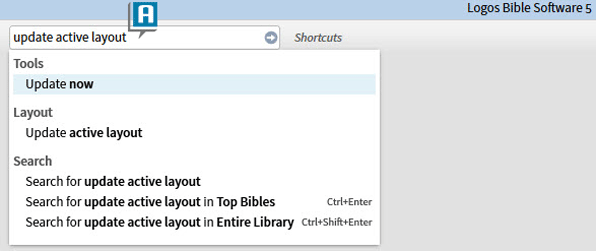 Drag Update active layout from the dropdown list that appears under the Command box (

B

) to the Shortcuts bar (

C

).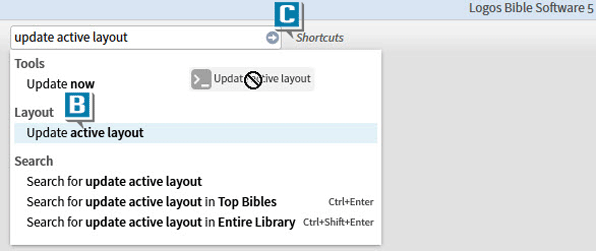 Notice the new icon that Logos places on the Shortcuts bar (

D

).
Now, anytime you want to save changes made to an open or active layout, just click this icon (D)!
Of course, to assign a different icon to this shortcut, right-click the default icon on the Shortcuts bar (E) and make your new selection (F).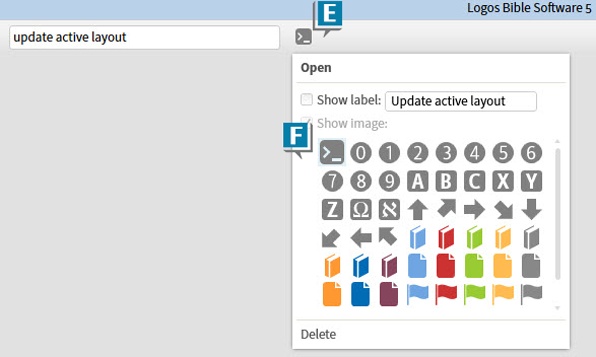 If you prefer keystrokes instead of icons, here are the keystroke shortcuts to update the active layout:
• PC: Ctrl + Alt + L
• Mac: Cmd + Ctrl + Opt + L