Today's post is from Morris Proctor, certified and authorized trainer for Logos Bible Software. Morris, who has trained thousands of Logos users at his two-day Camp Logos seminars, provides many training materials.
A Logos user recently asked me how to find Old Testament prophecies about Jesus. One way, but certainly not the only way, is to allow Logos to do the heavy lifting with the Sermon Starter Guide. Try this:
Choose Guides | Sermon Starter Guide.
Type Jesus in the reference box (

A

).
Notice the dropdown list of preaching themes that relate to Jesus (

B

).
Select the theme Prophecy: Jesus to generate the report (

C

).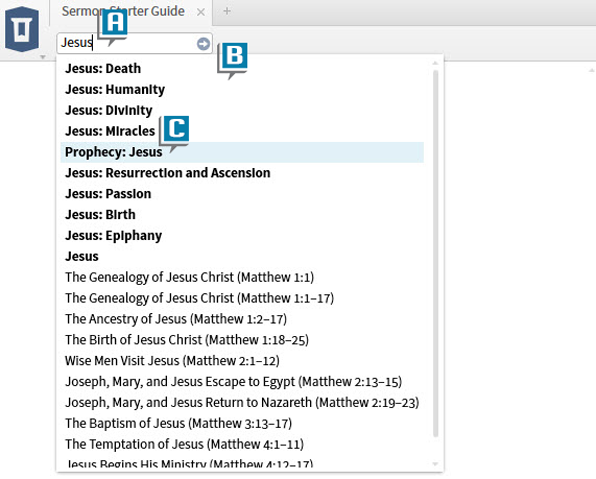 Focus on the Passages section, in which Logos lists some verses and pericopes (sections of the Bible) containing prophecies about Jesus (

D

).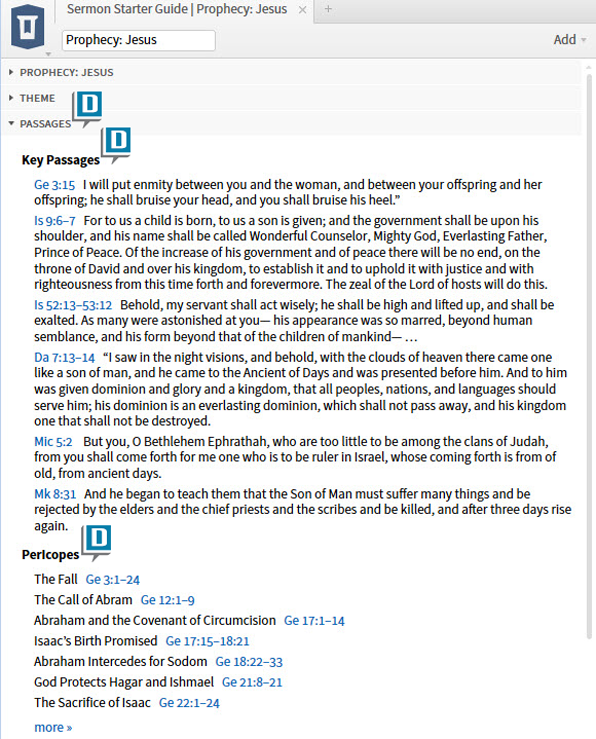 Pay close attention to the Thematic Outlines section, in which Logos searches the Dictionary of Bible Themes for outlines related to the subject (

E

).
Click the title "Jesus Christ, prophecies concerning" to reveal the complete outline within the report (

F

).
Rest the cursor on the title of the article, and use the links that appear to the right to copy this outline (or verses within the outline) to another location (

G

).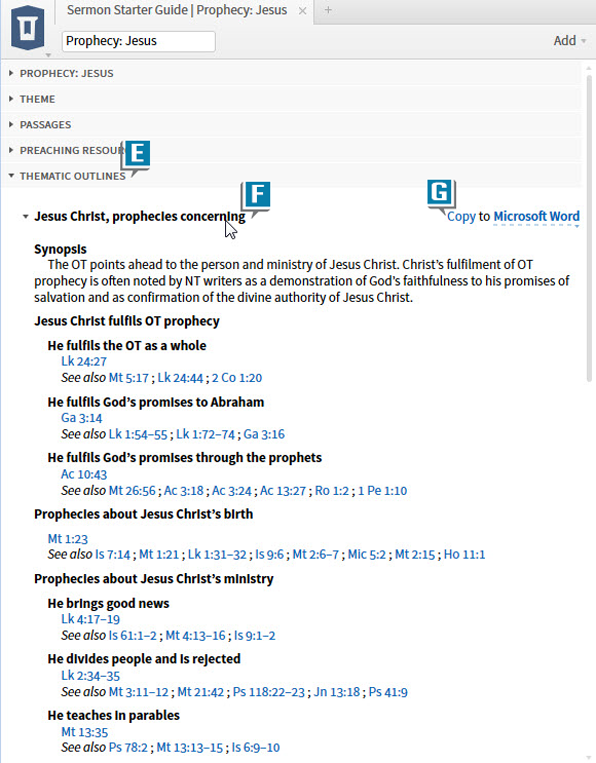 One of the things I want you to take away from this blog is that you don't have to be a preacher preparing a sermon to use the Sermon Starter Guide! Much like the Topic Guide, this tool can help you study nearly any subject.
Please note: the Preaching Themes dataset, which powers the Sermon Starter Guide, doesn't appear in the Starter base package.
Thanks for your feedback!