Today's post is from Morris Proctor, certified and authorized trainer for Logos Bible Software. Morris, who has trained thousands of Logos users at his two-day Camp Logos seminars, provides many training materials.
Numerous new features appeared in the recent release of Logos Bible Software 5.1. Without a doubt, the one most pleasing to the ears is the Lexham English Bible Audio. If you haven't tried this latest addition to the ever-expanding Logos library, follow these steps:
Type LEB in the Command box (

A

).
Press the Enter key to open the Lexham English Bible.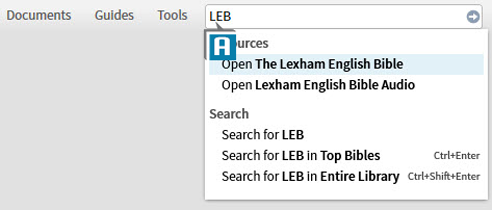 Navigate to a location in the New Testament (

B

).
Choose the panel menu on the LEB (

C

).

Select Marv Allen from the Read aloud dropdown list (

D

).
Click Read aloud (

E

).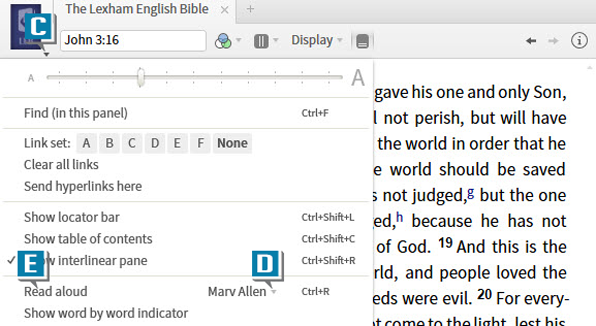 Notice the control buttons that open in the upper-right-hand portion of the Logos desktop (

F

).

Now just sit back and enjoy the word of God, read to you in a deep, rich voice!
Please note:
Currently, Marv Allen reads only the New Testament in the Lexham English Bible.
The Lexham English Bible Audio is also a separate resource in the Logos library.
This new read-aloud feature also works on the mobile app!
Thanks for your feedback!