Today's post is from Morris Proctor, certified and authorized trainer for Logos Bible Software. Morris, who has trained thousands of Logos users at his two-day Camp Logos seminars, provides many training materials.
Sometimes, when studying a book or section of the Bible, we can pick up on an author's theme by examining word usage. For example, John's use of love in 1 John and Mark's repeated reference to immediately in his gospel are enlightening.
With a Word List, we can easily discover the number of times a biblical writer used a given word. Try this:
Choose File | Word List.
Give the Word List a name that identifies it with the passage of Scripture being examined, such as 1 John Words.
Click Add

(A)

on the Word List.
Select a Bible from the dropdown list. (B)
Type a reference in the box, such as 1 John.

(C)

Press the Enter key to generate the list.
Click Grid (D) to see the words in a spreadsheet.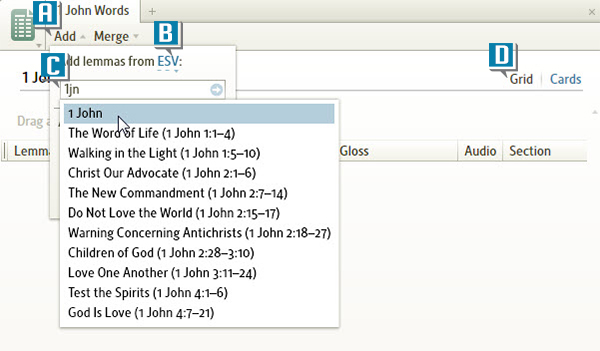 Click the column header Count (A) to arrange the words according to the number of times they are used in the passage. (If Count isn't visible, right-click a column header and select Count.)
In this 1 John example, please note the numerous occurrences of Greek lemmas translated love, know, and abide.
You can save these Word Lists and reopen them from the File menu.