A fellow Logos user recently emailed me with basically this scenario:
The Seminary Guide, released from Faithlife for 2020, has an article in it from Mark Ward in which he says Greek students should learn vocabulary words appearing more than 100 times in the New Testament (173 such words). Can I make this work in a Word List? If so, can the Hebrew be done the same way?
This is a great question for students of the original languages. The answer is: yes, it can be accomplished in Logos with the help of two features: Concordance and Word List.
This blog focuses on using the Concordance to capture the lemmas occurring 100 or more times. Next week's blog will cover creating a Word List with those lemmas.
So let's give this a go:
Choose Tools | Reference | Concordance (A). (Please note the Concordance tool does NOT appear in the free Basic or the Starter base collections.)
Select from the resource drop-down list a Greek Bible or an English Bible with the interlinear option like the ESV (B)
Select from the reference drop-down list Lemma (C)
Select from the range drop-down list New Testament (D)
At this point, please be patient because it may take a few minutes to create a complete lemma list of the New Testament.
Click Count (E) to place the most frequently occurring lemma at the top of the list (F)
Take note of the number of occurrences of the most frequently used lemma such as 19,799 for the ESV (G)
Click the Sidebar icon (H) to toggle on filters (I)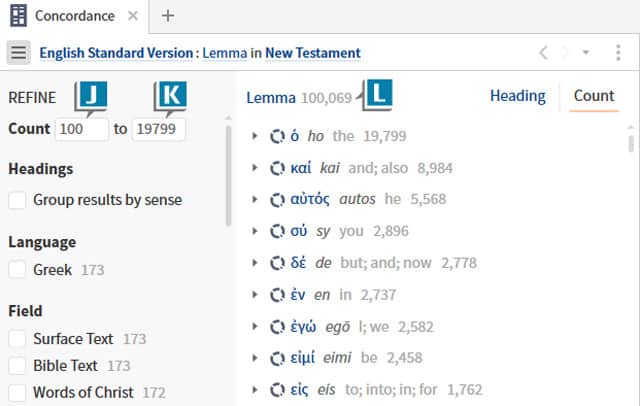 Type 100 in the first Count box (J) and 19799 in the second box (K) (Please note the second box contains the number of occurrences of the most frequently used lemma and do NOT use a comma in the number you type.)
Notice the lemma list now only contains lemmas occurring 100 or more times! (L)
For Hebrew, simply change the range to Old Testament (M). Then in the Sidebar, if you're using the ESV, the Count will be 100 to 50262 (N). Also, be sure to check the Hebrew language box in the Sidebar to filter out Aramaic words (O).
With a little practice, you can use this tool to create a variety of lemma lists based on your study needs.
Remember, next week I'll show you how to take this lemma list and place it in an official Word List you can save, reopen, and review as much as you like.
For more detailed instructions about all of the Logos 8 updates, please check out mpseminars.com.
And don't forget to follow faithlife.com/mpseminars, and you'll automatically receive a FREE digital download of Dr. Grant Osborne's commentary Ephesians Verse by Verse.