If you create presentation slides, there's an "almost hidden" gem in Logos that should make your work easier, especially when crafting slides from resource quotes.
Give this a go:
• Open any resource such as My Utmost for His Highest (A)
• Select the resource text you'd like to be in the slide (B)
• Right-click on the selection (C)
• Click Selection from the top of the left side of the Context menu (D)
• Select Visual Copy from the right side of the Context menu (E)

• Notice the Media tool opens with the selected text already placed in a slide (F)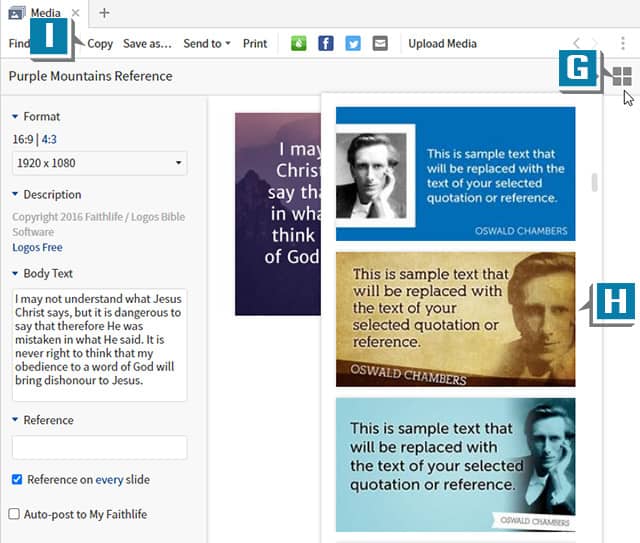 • Click the "4 square" icon in the upper right to change the background of the slide (G)
• Notice "author slides" if the quote is coming from a notable author (H)
• Use the "export" options (Copy, Send to, etc.) in the upper left to export the slides (I)
Please note: Visual Copy and author slide templates are in Starter and above Feature sets.
For more practical training tips like these, please consider a subscription to mpseminars.com, where you'll find thousands of videos to help you master Logos Bible Software's desktop and mobile apps.