Questions regarding the new Logos 8 Notes tool continue to come in so I'll use this weekly training blog to address some of them. Here's a recent question:
My Logos 7 Notes documents imported into Logos 8 as Notebooks. Is there a way to consolidate multiple Notebooks?
In other words, can we simultaneously move multiple Notes from one Notebook to another?
Thankfully we can.
Choose Tools | Content | Notes
Click the Sidebar icon in the upper left of the Notes panel to toggle on the Sidebar (A)
Click the Notebooks icon in the Sidebar (B)
Select a Notebook containing the Notes you want to move to a different Notebook (C)
Notice the Notes list pane display all of the Notes in that Notebook (D)
Select the first Note in the Notes list pane (E)
Hold down the Shift key
Select the last Note in the Notes list pane (F)
Notice all of the Notes in the Notes list pane are now selected (G)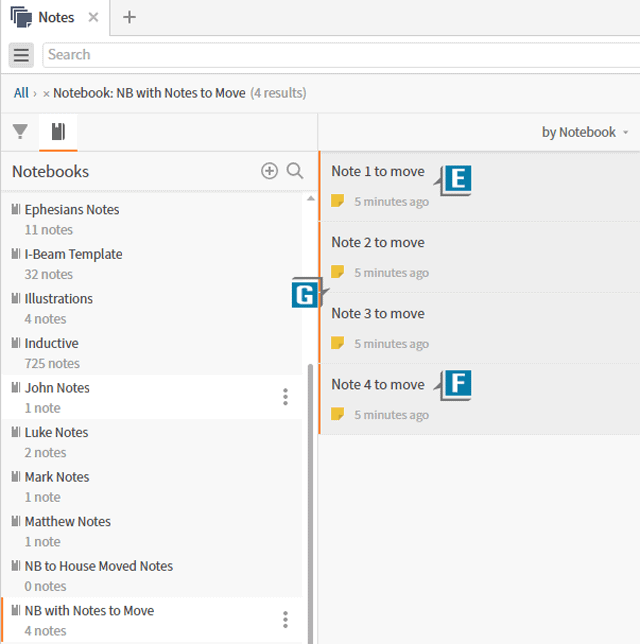 Notice the pane on the right changes so that global changes can be made to the selected Notes (H)
Click the Notebook drop down list (I)
Select the desired Notebook in which to move the selected Notes (J)
Repeat the above steps to move additional Notes to this Notebook
After you move the selected Notes to the new Notebook location, you can delete the Notebooks that are no longer being used.
Please underscore that the new Notes tool appears in all Logos 8 features sets.
For more detailed instructions about the new Logos 8 Notes tool, please check out the What's New in Logos 8 course in our mpseminarsonline.com subscription where you'll find about 150 videos just about new Logos 8 enhancements.
Remember to follow Faithlife.com/mpseminars and you'll automatically receive a FREE digital download of Dr. Grant Osborne's commentary Ephesians Verse by Verse
***

Morris Proctor is a certified trainer for Logos Bible Software. Morris, who has trained thousands of Logos users at his two-day Camp Logos seminars, provides many training materials.