October 5, 2008 marked 305 years since the birth of Jonathan Edwards, who has been widely known as America's greatest theologian. Most people's birthdays don't get remembered by very many people after they die, but Jonathan Edwards is a notable exception.
John Piper on Jonathan Edwards
As I mentioned in Friday's post on Learning from Your Heroes' Heroes, John Piper is well known for his immense appreciation for Edwards. He's written or edited two books about Edwards, both of which are available in Libronix:
I'd strongly encourage you to listen to or read Piper's biographical sketch on Edwards, "The Pastor as Theologian," which was given at the first Desiring God Pastors Conference in 1988. Powerful and motivating.
As you might expect, Piper wrote a blog post about Jonathan Edwards' Birthday, where he had this to say about him:
I suppose, after the Bible, no theologian has a greater ongoing effect on me as Jonathan Edwards. There are few in the world who combine the sharpness of mind, the scope of thought, the allegiance to Scripture, the depth of insight, the intensity of affections, the height of imagination, and the power of expression that he brings to all his work. I thank God for him today.
Coming Soon to Libronix!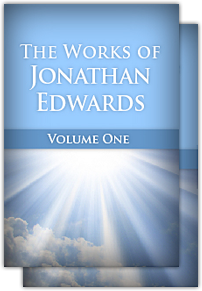 Soon you'll be able to have the standard 2-volume set fully searchable and tagged in your Libronix library. We announced Edwards' works on Pre-Pub at the end of March. I just heard from our Electronic Text Development department that we're not too far away from being ready to ship! If you haven't placed your pre-order yet, don't miss out on your chance to get our best price on the works of this eminently influential theologian. Place your pre-order now.
A Birthday Special
What would a birthday be without a birthday present? To celebrate Edwards' 305th birthday and the soon arrival of his works in Libronix format, we have two specials for you, our blog readers:
Get a taste of Edwards now by downloading A Treatise Concerning Religious Affections for free! Use coupon code EDWARDS during checkout to get this Edwards classic for no charge.
Save 40% on the two Piper books on Edwards mentioned above by using coupon code PIPER-EDWARDS.
Both specials are good for one week, so take advantage now and spread the word!
Update: This offer has expired.
Was This Article Helpful?