As Easter approaches, there's no better time to reflect on the power and glory of the resurrection through Scripture.
To start, Charles Spurgeon gives five Easter Bible verses when explaining the importance of the resurrection. (Hover over references in blue or scroll below the quote to see the text of each verse.)
The divinity of Christ finds its surest proof in his resurrection (Rom 1:4). Christ's sovereignty also depends on his resurrection (Rom 14:9). Again, our justification hangs on Christ's resurrection (Rom 4:25). Our very regeneration depends on his resurrection (1 Pet 1:3). And most certainly our ultimate resurrection rests here (Rom 8:11). The silver thread of resurrection runs through all the blessings, from regeneration onward to our eternal glory, and binds them together.1
—Charles Spurgeon
Romans 1:4
And was declared to be the Son of God in power according to the Spirit of holiness by his resurrection from the dead, Jesus Christ our Lord.
Romans 14:9
For to this end Christ died and lived again, that he might be Lord both of the dead and of the living.
Romans 4:25
Who was delivered up for our trespasses and raised for our justification.
1 Peter 1:3
Blessed be the God and Father of our Lord Jesus Christ! According to his great mercy, he has caused us to be born again to a living hope through the resurrection of Jesus Christ from the dead.
Romans 8:11
If the Spirit of him who raised Jesus from the dead dwells in you, he who raised Christ Jesus from the dead will also give life to your mortal bodies through his Spirit who dwells in you.
Most well-known Easter Bible verses
When many Christians think of Easter Scriptures, "Why do you seek the living among the dead? He is not here, but has risen" comes to mind (Luke 24:5b–6a). Here's the entire passage, Luke 24:1–7:
But on the first day of the week, at early dawn, they went to the tomb, taking the spices they had prepared. And they found the stone rolled away from the tomb, but when they went in they did not find the body of the Lord Jesus. While they were perplexed about this, behold, two men stood by them in dazzling apparel. And as they were frightened and bowed their faces to the ground, the men said to them, "Why do you seek the living among the dead? He is not here, but has risen. Remember how he told you, while he was still in Galilee, that the Son of Man must be delivered into the hands of sinful men and be crucified and on the third day rise."
Matthew 28:6 is another of the most-often-quoted verses for Easter:
He is not here, for he has risen, as he said. Come, see the place where he lay.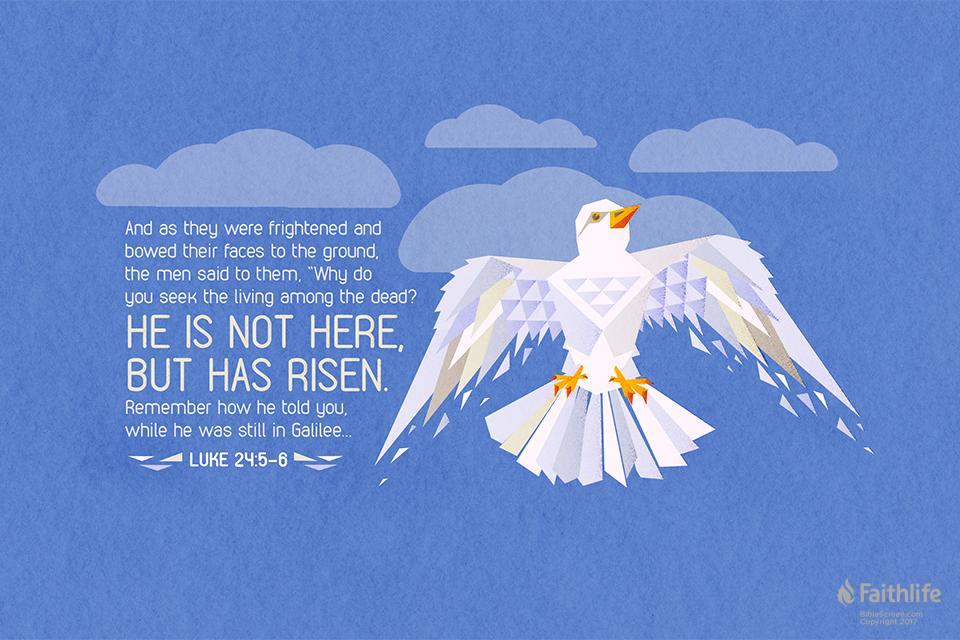 Other key Bible passages for Easter
These passages might not come to mind as quickly, but they're just as relevant to Resurrection Day. We rounded them up in two seconds with the Logos Bible app you can download free. It comes with powerful tools and resources to help you study the Bible (like Bible dictionaries and study Bibles).
Psalm 16:8–11
I have set the Lord always before me; because he is at my right hand, I shall not be shaken. Therefore my heart is glad, and my whole being rejoices; my flesh also dwells secure. For you will not abandon my soul to Sheol, or let your holy one see corruption. You make known to me the path of life; in your presence there is fullness of joy; at your right hand are pleasures forevermore.
Matthew 12:40
For just as Jonah was three days and three nights in the belly of the great fish, so will the Son of Man be three days and three nights in the heart of the earth.
Acts 2:29–31
Brothers, I may say to you with confidence about the patriarch David that he both died and was buried, and his tomb is with us to this day. Being therefore a prophet, and knowing that God had sworn with an oath to him that he would set one of his descendants on his throne, he foresaw and spoke about the resurrection of the Christ, that he was not abandoned to Hades, nor did his flesh see corruption.
1 Corinthians 15:3–8
For I delivered to you as of first importance what I also received: that Christ died for our sins in accordance with the Scriptures, that he was buried, that he was raised on the third day in accordance with the Scriptures, and that he appeared to Cephas, then to the twelve. Then he appeared to more than five hundred brothers at one time, most of whom are still alive, though some have fallen asleep. Then he appeared to James, then to all the apostles. Last of all, as to one untimely born, he appeared also to me.
Revelation 1:17–18
When I saw him, I fell at his feet as though dead. But he laid his right hand on me, saying, "Fear not, I am the first and the last, and the living one. I died, and behold I am alive forevermore, and I have the keys of Death and Hades.
More Bible verses related to Jesus' resurrection
These verses were also found in a snap with the free Logos Bible app. Hover over each reference in blue to read the passage's text.
Psalm 2:1–12; 16:1–11
Jonah 1:17–2:10
Matthew 12:38–45; 16:1–4, 21–23; 17:1–13, 22–23; 20:17–19; 26:30–35; 28:1–17
Mark 8:27–33; 9:1–13, 30–32; 10:32–34; 14:26–31; 16:1–20
Luke 9:18–22; 18:31–34; 24:1–53
John 2:13–25; 10:1–21; 14:8–21; 16:16–33; 20:1–29; 21:1–14
Acts 1:1–3, 9–11, 15–26; 2:14–39; 3:11–26; 4:5–12, 32–37; 5:22–32; 10:34–43; 13:13–41; 17:1–4, 16–34; 25:13–27; 26:19–23
Romans 1:1–7; 4:13–25; 6:1–14; 7:1–6; 8:1–11, 31–39; 10:1–13; 14:1–13
1 Corinthians 6:12–20; 15:1–28
2 Corinthians 4:7–15; 5:12–21; 13:1–6
Galatians 1:1–5
Ephesians 1:15–2:10
Philippians 2:5–11; 3:1–11, 17–4:1
Colossians 1:9–18; 2:11–3:11
1 Thessalonians 1:2–10; 4:13–18
1 Timothy 3:14–16
2 Timothy 2:1–13
Hebrews 7:20–28; 9:23–28; 10:11–18; 13:20–25
1 Peter 1:3–21; 3:18–4:6
Revelation 1:4–20; 2:8–11
Here's how we found these verses in Logos—quick, easy steps you can follow on your own to gather verses for any topic.
1. Go to the Logos web app at app.logos.com and sign in or create an account.
2. Click on the Factbook icon (the book with a check mark on the cover) in the top left of your screen.

3. Type in Easter and select Resurrection of Jesus Christ, Concept from the options that appear.
That's it! You'll see a key article, related media from your library, key passages, and more to help you study the Bible anywhere, anytime. Everything in blue is a link that takes you further.
Books about the Resurrection
After Easter: How Christ's Resurrection Changed Everything
The Battle for the Resurrection
The Bedrock of Christianity: The Unalterable Facts of Jesus' Death and Resurrection
Resurrection
What Is Resurrection?
Scandalous: The Cross and Resurrection of Jesus
Thousands more are available at logos.com and accessible from the Logos web app, mobile app, or desktop app. Unlike other digital books, Logos editions link to each Scripture reference and other works in your library (like from footnotes).
Plus, Logos searches your library for you so resources show up when you need them. For example, any of your books related to the resurrection will display in Factbook results. To open them, all you have to do is click.
Get Logos for free today and try it out for yourself!

Related articles
Why Do Christians Celebrate Easter (So Extravagantly)?
25 Easter Worship Songs & Hymns of Praise
Why Did Jesus Appear to the Women Instead of the Disciples?
Thanks for your feedback!
C. H. Spurgeon, 2,200 Quotations: From the Writings of Charles H. Spurgeon : Arranged Topically or Textually and Indexed by Subject, Scripture, and People, ed. Tom Carter (Grand Rapids, MI: Baker Books, 1995), 176.