Princeton Theological Review (443 issues)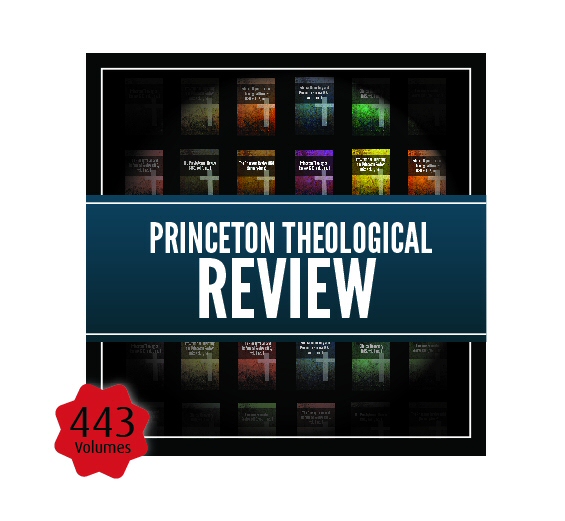 Princeton Theological Review (443 issues)
•
Runs on Windows and Mac.
$50.00
Reg.: $499.95
Print: $999.95
* Projected price. Future bids may change this price.
Place Your Bid!
Click on the highest price you'd pay. If the final price is lower, that's what you'll pay.
Overview
Collectively known as the Princeton Theological Review, this collection includes every issue of the Biblical Repertory, Biblical Repertory and Theological Review, Biblical Repertory and Princeton Review, Presbyterian Quarterly and Princeton Review, Princeton Review, New Princeton Review, Presbyterian and Reformed Review, and the Princeton Theological Review—all 443 issues published between 1825–1929.
This premier Christian journal was started by Charles Hodge in 1825 and had a publication run of over 100 years. The Princeton Theological Review was at the center of the most important issues concerning Reformed Christianity in the nineteenth century. You'll find contributions from every person in the tradition of Old Princeton, including giants such as Warfield, Hodge, Vos, and numerous others. You'll have access to reviews and engagement with the most important theological literature of the nineteenth century. You also get first-hand access to the debates over biblical inerrancy, creation and evolution, slavery, politics, and much more.
With the Logos Bible Software edition all Scripture passages in Princeton Theological Review (443 issues) are tagged and appear on mouse-over. What's more, Scripture references are linked to the wealth of language resources in your digital library. Research that would normally take hours of page turning can now be completed with only a few clicks of your mouse! This makes all 443 issues more powerful and easier to access than ever before for scholarly work or personal Bible study. With the advanced search features of Logos Bible Software, you can perform powerful searches by topic or Scripture reference—finding, for example, every mention of "grace" or "covenant."
Key Features
Over 82,000 pages
Thousands of articles and reviews
Includes giants such as Archibald Alexander, B. B. Warfield, Charles Hodge, A. A. Hodge, and numerous others
104 years, 443 issues of this premier academic journal
Product Details
Title: Princeton Theological Review
Issues: 443
Pages: 82,999
Publication Dates: 1825–1929