Archibald Alexander Collection (20 vols.)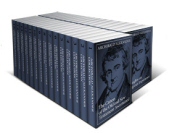 Overview
A member of a long line of the great Princeton theologians which includes Jonathan Edwards, B.B. Warfield, and Charles Hodge, Archibald Alexander was a dominating and highly influential Presbyterian theologian, and the founding principal of Princeton Theological Seminary. He wrote and preached extensively on theological topics, missions, and biblical authority, and—more than any other during his time—appropriated and defined Calvinism in the unique context of America.
The Archibald Alexander Collection contains twenty volumes of works on biblical studies and theology. This collection includes Alexander's important writings on biblical authority—the first works in Princeton theology to defend biblical inspiration against the claims of higher critics—a project greatly expanded by his successors Charles Hodge and B.B. Warfield. The Archibald Alexander Collection also includes Alexander's works on religious experience, church education, and his two massive volumes on the history of Israel. This collection also contains numerous sermons, lectures, and other addresses, including his address delivered at his own inauguration as professor of theology at Princeton.
With the Logos Bible Software edition of the Archibald Alexander Collection (20 vols.), all Scripture references are directly linked to your original language texts and English Bible translations. You can also employ advanced searching, along with the powerful tools in your digital library. The Logos edition is a must-have for historians of American Christianity and Presbyterianism, as well as biblical scholars and Reformed theologians.
Key Features
Archibald Alexander's works on religious experience, biblical inspiration and authority, and other important themes in Princeton theology
Sermons, addresses, and lectures
All Scripture references linked to original language texts and English translations
Product Details
Title: Archibald Alexander Collection (20 vols.)
Author: Archibald Alexander
Volumes: 20
Pages: 4,100
About Archibald Alexander
Archibald Alexander was born on April 17, 1772 in Rockbridge County, Virginia. He was educated at nearby Liberty Hall, and studied for two years under William Graham. At age 25, he was elected president of Hampden Sydney College in Virginia. Shortly thereafter, he moved to Philadelphia to become pastor of the Third Presbyterian Church. When Princeton Theological Seminary opened in 1812, Archibald Alexander became the first professor of theology, where he served until 1840. Among his students was Charles Hodge, who named his son, A.A. Hodge, after his mentor. Archibald Alexander died in 1851.