Robert Lewis Dabney Collection (11 vols.)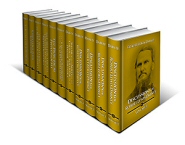 Overview
Nineteenth-century professor and theologian Robert Lewis Dabney captivates his readers with essays and lectures covering a vast array of subjects in this 11-volume collection. Robert Lewis Dabney Collection (11 Vols.) contains ten books of valuable insight into theology, science, and psychology, as well as a biographical volume taking a close-up look into the life of this Southern Presbyterian Confederate.
Included in this collection is a very practical and compelling one-volume resource on the subject of the Sabbath as a day of rest. Dabney also explores the realms of science and religion in another single volume book, titled The Sensualistic Philosophy of the Nineteenth Century. His writings and lectures have greatly influenced the Southern Presbyterian Church. The writings show his biblical scholarship as well as the intriguing historical background in which his life and experiences are set — in addition to his work as a Southern Presbyterian minister and teacher, he was a Confederate in the American Civil War. His biblically-based writings are an excellent resource for any pastor, teacher, or student, and will be the perfect addition to your Logos library.
Key Features
Biographical volume written by Thomas Cary Johnson
Lectures of Robert Lewis Dabney
Four volumes of essays on a wide variety of theological topics
Praise for the Print Edition
[Robert Lewis Dabney is] the most conspicuous figure and the leading theological guide of the Southern Presbyterian Church, the most prolific theological writer that Church has as yet produced.
Product Details
Title: Robert Lewis Dabney Collection (11 Vols.)
Author: Robert Lewis Dabney
Volumes: 11
Pages: 5,549
Individual Titles
About Robert Lewis Dabney
Robert Lewis Dabney, born in 1820, was a 19th century American theologian, well-known and highly acclaimed for his theological writings, including The Five Points of Calvinism, contained in the Calvin 500 Collection (108 Vols.). A staunchly Calvinist Southern Presbyterian minister and writer, Dabney was also a professor, teaching at both Union Theological Seminary in Virginia and Austin Theological Seminary. During the American Civil War, Dabney served as a Confederate, at one point becoming the chief of staff to Thomas "Stonewall" Jackson. He died in 1898 in Texas.