A. A. Hodge Collection (11 vols.)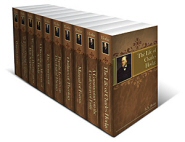 Overview
A. A. Hodge championed Reformed theology against liberalism, higher criticism, and the currents of nineteenth century modernism, and counts among the great Princeton theologians—his father, Charles Hodge, before him, and B. B. Warfield after. Although he carried on the legacy of Charles Hodge, A. A. Hodge proved himself a theologian in his own right, writing extensively on the atonement, the Westminster Confession, forms for worship, and numerous theological themes. His theology stemmed from his experience as a pastor, his work in India as a missionary, and his teaching career spent with the students and faculty of Princeton. Hodge's theological exploration was intended for the members of his church and for the direct benefit of his students.
The 11-volume A. A. Hodge Collection includes six volumes authored by Hodge, plus two volumes co-authored by Hodge on the Westminster Confession, the famous biographical sketch of Hodge's life, A Discourse in Memory of A. A. Hodge by Francis L. Patton, and Princetoniana, by a student. With the Logos edition of the A. A. Hodge Collection, Scripture references are linked to your Greek and Hebrew texts, along with English translations, and your digital library allows you to perform powerful searches and word studies, and instantly click your way through all of Hodge's works. That makes the Logos edition of the A. A. Hodge Collection the easiest and most accessible version for reading and research! The A. A. Hodge Collection is ideal for theologians and pastors—especially Presbyterians—and anyone interested in the history of the Westminster Confession, nineteenth century Reformed theology, and the ongoing legacy of A. A. Hodge.
Key Features
Indexes and appendices
Links to primary source documents, reference works, and Scripture passages
Biography of A. A. Hodge by Francis L. Patton
Praise for the Print Edition
[A. A. Hodge possessed] an acute mind; [was] interested in theological speculation; rethinking independently the old questions; analytic in his mental processes; full of scholastic subtleties; bold, confident, intense in his convictions; holding the Reformed faith as a sacred trust, and also as a personal possession; pervaded by this faith and living on terms of easy familiarity with it; able to distinguish between essence and accident, and knowing when harmless idiosyncrasy runs into serious doctrinal divergence; strong in his convictions, but not litigious; tenacious of principle, but never sticking in the bark: a sturdy, robust thinker, always ready to defend the faith, a brilliant thinker…Beyond all question he takes his place among the great men of America and the great theologians of the world.
—Francis Landey Patton, in A Discourse in Memory of Archibald Alexander Hodge, 1887
Product Details
Title: A. A. Hodge Collection
Volumes: 11
Pages: 3,993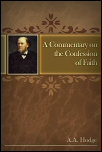 In A Commentary on the Confession of Faith, Hodge analyzes each chapter and section of entire Westminster Confession, offering proofs of its necessity and illustrations of its application. This volume is intended both to facilitate and stimulate study of the Westminster Confession—designed for Presbyterians, but accessible and useful for everyone.
Hodge begins with a short history of the creeds and confessions in general and a history of the Westminster Confession in particular, including the historical and theological events which inspired its composition. Most of the volume is rightly devoted to detailed commentary on the Confession itself. Each chapter includes a detailed exposition of the Confession, and concludes with dozens of questions for review and reflection. A Commentary on the Confession of Faith also includes appendices which contain statements by Charles Hodge and Henry B. Smith, as well as the 1879 Auburn Declaration and the Declarative Act of the United Presbyterian Synod of Scotland.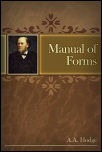 Hodge's Manual of Forms contains outlines and suggestions for worship services and special occasions. First published in 1882 and expanded into the current edition, these forms are drawn from numerous sources—including Hodge's own pastoral experience—and are designed as an aid for pastors, preachers, and others involved in public worship. This volume contains outlines of worship services for special occasions, forms for baptism, marriage, ordination, and funerals, as well as selections of scriptures and prayers for pastoral visitation to the sick. This handbook also contains the Ten Commandments, the Lord's Prayer, and the Creeds. Portions of other worship books borrowed from A. A. Hodge's historically significant Manual of Forms, testifying to its continued relevance and usefulness.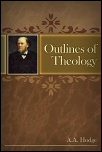 A. A. Hodge composed Outlines of Theology for his congregation—making the tone of this succinct systematic theology more pastoral than dogmatic. Hodge credits his father's theological wisdom, and acknowledges that conversations with his father, as well as material from his father's sermons and lectures, has made its way into Outlines of Theology. This outline began as a series of popular lectures and sermons, which Hodge's congregation urged him to publish for a broader audience.
Outlines of Theology attempts to orient theological discussion around a shared language. Hodge surveys the whole of theology concisely and succinctly. He covers the central doctrines, the most important moments in church history, as well as the purpose of divine revelation. Hodge also discusses ecclesiastical issues, such as baptism and the Lord's Supper. Outlines of Theology is intended as a theological manual for preachers, a theological syllabus for students, and a clear and accessible summary of theology for those who lack the means or the time to read a more expansive systematic theology.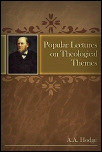 This volume began as a series of lectures delivered in a women's class at Princeton in the mid-1880s. After Hodge received repeated requests to deliver these lectures for a broader audience—and glowing reviews of their content in the Presbyterian and the Presbyterian Journal—he compiled them into this accessible monograph for wider distribution.
Popular Lectures on Theological Themes explains theology in accessible language for a wide—and not necessarily theologically-trained—audience. He aims to make theological topics sensible and straightforward: he writes at the outset, "All theology must be theocentric—must have God for its beginning and end." Popular Lectures on Theological Themes also includes chapters on hotly-debated theological topics such as predestination, the sacraments, miracles, and the efficacy of prayer.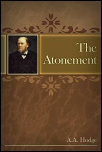 The Atonement began as a series of articles on the atonement which appeared in the Presbyterian Banner intended to correct the broad misrepresentation of the doctrine of the atonement. This compilation of Hodge's articles served as a useful resource for Reformed churches—then and now—and creates a deepened understanding of the atonement from the perspective of Calvinism.
Hodge begins with a broad introduction to the doctrine of the atonement in non-technical language, outlining its development and controversies. He explains the various theories of the atonement, as well as the theological problems basic to each. In addition to a detailed outline of the doctrine of the atonement, Hodge also asks fundamental questions about its meaning, comparing contemporary accounts of the atonement to historic Reformed traditions.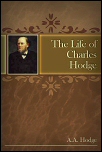 Charles Hodge counts as one of the most influential theologians of the nineteenth century and one of Calvinism's most ardent defenders in America. He was born in 1797 in Philadelphia to Hugh and Mary Hodge. He graduated from the College of New Jersey (Princeton University) in 1815, and was ordained in the Presbyterian Church in 1821. In 1822, at the request of Archibald Alexander, he became a professor at Princeton, and taught biblical literature and systematic theology until 1878. From 1826 to 1828, Hodge also studied in Europe, and became acquainted with Friedrich Augustus Tholuck, Wilhelm Gesenius, Augustus Neander, and Friedrich Schleiermacher.
During his tenure at Princeton, Charles Hodge instructed more than three thousand ministers, served as moderator of the Presbyterian General Assembly in 1846, helped revise the Presbyterian Church's Book of Discipline, and served on the Board of Foreign Missions. He also founded the Biblical Repertory and Princeton Review and served as its editor for forty-three years. In addition to his systematic theology and four Bible commentaries, Hodge also wrote books on the Presbyterian Church and published numerous articles.
After Hodge's death in 1878, his son, Archibald Alexander Hodge penned this biography of his father. Drawing from Charles Hodge's published writings, extant manuscripts, correspondence, and personal memories, A. A. Hodge offers this revealing look at his father's studies, his relationships with his family members, his travels, and the lifelong friendships which informed and influenced his teaching and theological reflection. The Life of Charles Hodge reveals the story behind one of the nineteenth century's most thoughtful Christians and the church's most profound theologians.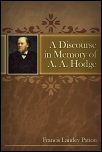 A Discourse in Memory of A. A. Hodge was delivered by Francis L. Patton in the Chambers Presbyterian Church on December 21, 1886 at the invitation of the Philadelphia Presbyterian Ministerial Association. Today, it is remembered as one of the most notable—and widely cited—recollections of the life and work of A. A. Hodge.
Patton was well-acquainted with Hodge, having served as his colleague at Princeton, and he reflects both personally and theologically on Hodge's contributions to Reformed theology. He begins with a lengthy description of A. A. Hodge's relationship with his father, Charles Hodge, and the intellectual climate at Princeton in which he was born and raised. Patton also recounts Hodge's work in India, eventual return to America, and his long career as a pastor and theologian. A Discourse in Memory of A. A. Hodge serves as a fitting tribute to Princeton's third professor of systematic theology—"not simply a theological professor, but a spiritual force."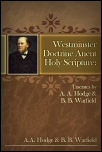 The Westminster Doctrine anent Holy Scripture: Tractates by A. A. Hodge and B. B. Warfield was published at the close of the nineteenth century by the Free Church of Scotland to address the controversy brewing over scriptural inspiration. Liberalism had nearly succeeded in stripping the divine inspiration and authority from Scripture, and fundamentalists responded with a doctrine of inerrancy. This series of tracts by A. A. Hodge and B. B. Warfield contain a succinct summary of biblical inspiration and respond to its objections. Both Hodge and Warfield defend the authenticity and integrity of the books of the Old and New Testament, and examine both textual and historical evidence. This volume also contains a lengthy appendix on the doctrine of biblical inspiration in the Free Church of Scotland.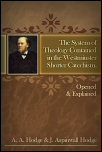 In this concise volume, both A. A. Hodge and J. Aspinwall Hodge not only outline a clear understanding of God's plan of salvation, but emphasize the ability to communicate God's plan to others. This handbook on the Westminster Shorter Catechism serves as a clear and concise exposition of the doctrine—based on the Bible—contained in the Westminster Shorter Catechism. Hodge's completion of The System of Theology Contained in the Westminster Shorter Catechism Opened and Explained was interrupted by his death in 1887, and his cousin, J. Aspinwall Hodge, finished the work.
Princetoniana was crafted by an anonymous student, familiar with the life and work of both Charles Hodge and A. A. Hodge. The first part of this volume is biographical, drawing from numerous sources and witness to capture the relationship between A. A. Hodge and his father, as well as Charles Hodge's influence on him. This biographical sketch provides a rare glimpse of their lives together, telling the story of A. A. Hodge's rise to prominence at Princeton after his father's death and his place among the Princeton theologians. The second half of Princetoniana contains aphorisms, short sayings, classroom notes, and short theological treatises written by A. A. Hodge.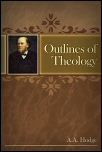 Outlines of Theology
Author: A. A. Hodge
Publisher: Robert Carter and Brothers
Publication Date: 1879
Pages: 678
In 1878, a new edition of Hodge's Outlines of Theology was finished. This expanded edition contains nearly fifty per cent more content than the first edition published in 1863. Five new chapters were added, and two were dropped. Several other chapters were rewritten or reorganized, and others were substantially enlarged. This edition also contains excerpts from relevant confessions, creeds, and classic theological works. It also benefits from fourteen years of scholarship during the intervening years.
About the Author
Archibald Alexander Hodge was born in 1823 in Princeton, the son of Charles Hodge. He was named after Archibald Alexander, the principal of Princeton Theological Seminary from 1812 to 1840. A. A. Hodge attended Princeton College and Princeton Theological Seminary, graduating in 1847. He spent three years in India as a missionary, before returning to America to become professor of systematic theology at Western Theological Seminary in Pittsburg, Pennsylvania in 1864. In 1877, A. A. Hodge left Western Theological Seminary to return to Princeton Theological Seminary to succeed his father as the chair of systematic theology. Archibald Alexander Hodge died in 1886.