Imagine sitting down with one of the world's most respected New Testament scholars and asking him questions about everything from Ezekiel's vision or the cryptic language of Revelation 14, to how we can understand difficult passages in the Gospel of John.
And then, without hesitation, you receive detailed, accurate responses.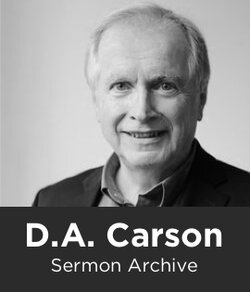 That's the idea behind the D. A. Carson Sermon Archive, which lets you search more than three decades of sermons delivered at churches, universities, and conferences worldwide. This collection of 553 messages is the next best thing to sitting down with Dr. Carson yourself. In fact, with all the transcripts, audio presentations, and bonus video content, it may be even better.
Sit down with Dr. Carson
This collection delivers D. A. Carson's sermons on entire books of the Bible, including Ezekiel, John, Philippians, and Revelation. Carson covers theological topics such as the New Perspective on Paul, openness theology, and providence, and tackles practical issues such as suffering, discipleship, and cross-cultural ministry.
With the Logos mobile app, you can listen anywhere—even during your morning commute. Back in your home or office, it's easy to search the transcripts and find insights right inside Logos. Transcripts turn each message into a complete, written resource just like other resources in your Logos library.
What's more, citations link directly to English translations and original-language texts. Important terms link to dictionaries, encyclopedias, and a wealth of resources in your digital library. And the Topic Guide lets you perform powerful searches to instantly gather relevant biblical texts and resources.
The D. A. Carson Sermon Archive delivers three decades of wisdom from one of the preeminent evangelical teachers/theologians of his generation.
Get the D. A. Carson Sermon Archive today.