Today's guest blogger is Ken Smith, General Manager of Electronic Publishing Services at Logos.
(This is the next installment in a series of articles about our nearly 60 publishing partners who market their own electronic products using our technology.)
AMG Publishers
You might recall that in Part 2 of this series, we described a "hybrid" partnership with InterVarsity Press (US and UK), where we license some titles and also create publisher-marketed products. Another successful partnership in this category is with AMG Publishers. If you don't know the AMG name, you might recognize the name of their president—Spiros Zodhiates.
AMG's first product, Bible Essentials, was released in April 2001 and updated to the Libronix Digital Library System in September 2004. This outstanding collection includes the well-known Complete Word Study Dictionary and Complete Word Study Bible (KJV), along with a dozen or so key reference titles.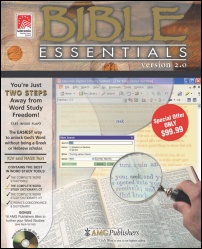 We currently license several individual titles from AMG and also have two exciting collections in our pre-publication program: The Following God Workbook Series and Learning the Basics of New Testament Greek.
Next: Baker Publishing Group