One of the things I love about Logos 4 is how easy it is to navigate in Bibles. Are you aware of how easy it can be?
Let's start assuming you're in Romans 2:1.
Now, let's say you want to move to Romans 2:22.
In the old days, you'd either have to re-type the whole reference (Ro 2.22) or you'd need to select the 1 with your mouse and re-type '22' over it. But now? Just type in '22' and Logos 4 assumes you mean verse 22 in the current book/chapter:

That's pretty cool. What if you want to move to Romans 5:6, though? Just type in the parts of the reference that have changed (here "5.6") and Logos 4 assumes you mean chapter 5 verse 6 in the current book.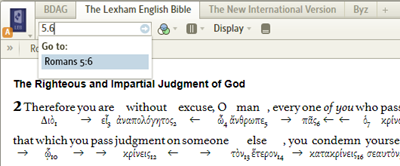 You may also have noticed that I used a full-stop '.' instead of the colon ':' to separate verses. Either is fine. Logos 4 actually recognizes a number of different verse separators … even a space! So for the last example, you could have done '5 6'. No more right-pinkie-finger extensions to hit the SHIFT key. That makes it even better!
Was This Article Helpful?