The Lexham English Bible (LEB) is a new translation of the Bible into English, and one of the newest additions to a suite of resources from Logos which connect the original language texts to formal translations. New translations of the Bible into English appear every few years. So what's so special about the LEB?
Your Second Bible
The LEB complements your primary translation. Its transparent design and literal rendering helps you see the text of God's Word from another angle. Whether you use the ESV, NIV, KJV, or another popular English translation, the entire translation process helps you identify difficult texts, idiomatic phrases, grammatical issues, and more. The result? A better understanding of the Bible in English—whatever translation you use.
In Logos Bible Software, interlinears reveal the path from the original language texts to formal translation. This type of information, used in concert with your primary translation, helps you dig deeper into the text of the original languages. The entire translation process is visible and transparent—you can see the entire process.
We've launched LexhamEnglishBible.com, which contains everything you need to know about the LEB. There you can compare the LEB to other popular translations and learn about the translation process.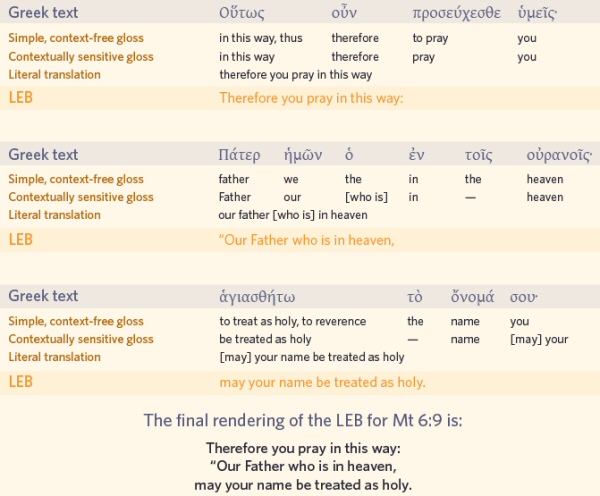 Download the LEB for Free
If you own a Logos 4 base package, then you already own the LEB. Search for Lexham English Bible in your Library to begin reading it right now.
If you don't own a Logos 4 base package, you can download the LEB individually for free for Logos 4 or for older versions of Logos. From the product page, click "Add to Cart" (make sure you're logged in) and proceed through checkout. As part of the checkout process, you'll need to enter credit card information, but we promise we won't charge you a penny.
Not only can you get the LEB for free in Logos Bible Software, you can download it in several other file formats, including PDF, TXT, EPUB, XML and more. We're so excited about the LEB's usefulness as a complement to your primary translation that we've decided to share it with everyone under a generous license for both commercial and non-commercial use.
Read It Now on Bible.Logos.com
With the launch of LexhamEnglishBible.com, we've made the LEB available on Bible.Logos.com, which means you can read it right now in your browser.
Share the LEB on Twitter
You can also share the LEB on Twitter using Ref.ly. With Ref.ly, you can specify the LEB by simply adding ; followed by LEB, the version abbreviation. For example, to share John 1:1 on Twitter using the LEB, simply type http://ref.ly/John1.1;LEB, or type the abbreviated version: http://ref.ly/Jn1.1;LEB.
Learn More
Check out LexhamEnglishBible.com to learn more, read about the translation process, compare it to other popular translations, and download it for free today!
Was This Article Helpful?