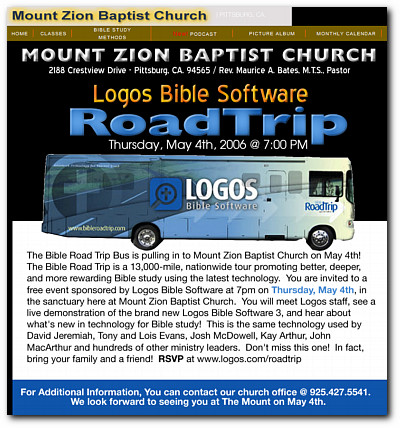 What a great evening! After a nerve-rattling ride over some bumpy, narrow state highways ("Windy Levy Road Next 3 Miles"), and a trip over the feels-too-high-and-narrow-for-this-RV Antioch Bridge, we arrived at Mount Zion Baptist Church in Pittsburg, California.
Pastor Maurice Bates and everyone at the church really put out the red carpet for us. They had prepared a big spread of food for us, and they recorded my presentation on both audio and video. Attendance was great — our largest group yet! And after I demonstrated Logos Bible Software 3 they sent me off with a big basket of snacks and drinks for the road. I felt like a celebrity!
There were some more familiar names to meet in person, and Dean Forbes (co-editor of the analyzed Hebrew text) came, too. Best of all, there were lots of people there with a real interest in Bible study. It was a fun and encouraging evening.
Next stop: Evangelical Free Church of the Conejo Valley in Newbury Park, California.