As he was reading through Proverbs, one of our team members at MP Seminars correctly observed a few questions intermingled with most statements throughout the book. Not wanting to miss any questions, he created a Visual Filter that would automatically highlight all the questions in Proverbs.
Give this a try:
Choose Docs | New | Visual Filter
Name the filter (A)
Select Bible as the search type (B)
Designate Proverbs as the verse range to search (C)
Select your preferred Bible from the drop-down list (D)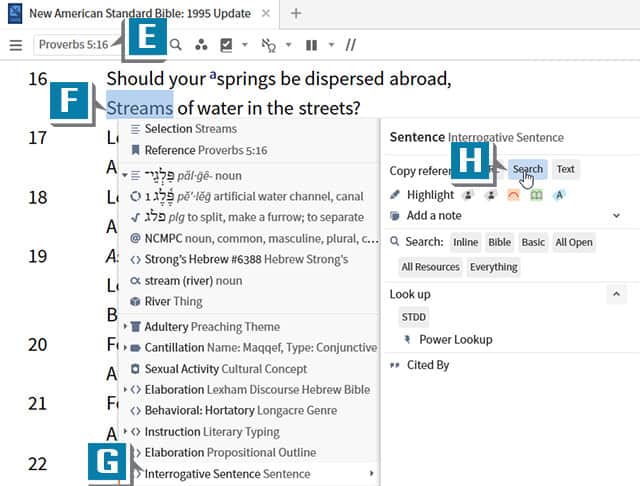 Open your preferred Bible to a question in Proverbs such as Proverbs 5:16 (E)
Right-click on any word in 5:16 (F)
Select from the left side of the Context menu Interrogative Sentence (G)
Select from the right side of the Context menu Copy reference: Search (H)
Execute a paste in the Search box in the Visual Filter (I)
Select a Formatting style from the drop-down list such as Orange Foreground (J)
Now as you read through Proverbs, all the questions will be in orange text! (K)
For more practical ideas like this, please register and join me for a FREE 40-minute training webinar, Tuesday, February 22, at 1:00 p.m. (Central) entitled: Practical Visual Filters for Bible Reading. If you can't make this scheduled time, please still register, and we'll send you directions for watching anytime that's convenient for you.
Note: The Sentence Types Dataset is included in the Bronze and above packages.