Isaiah for Everyone
In this volume on Isaiah, John Goldingay explores the first of the great prophetic books. Isaiah is a compilation of the prophetic messages of several prophets. Their messages to the people of Judah and Jerusalem included a call for injustice to be recognized, a message of liberation and hope from the oppressors of the people, and a message of the coming day of judgment.
$13.99
Save 100%
Your Price: $0.00
Get an Additional Book for $1.99
Old Testament Exegesis: A Handbook for Students and Pastors
For years, Douglas Stuart's Old Testament Exegesis has been one of the most popular ways to learn how to perform exegesis—the science and art of interpreting biblical texts properly for understanding as well as proclamation.
$19.99
Save 90%
Your Price: $1.99
Add a Third Book for $2.99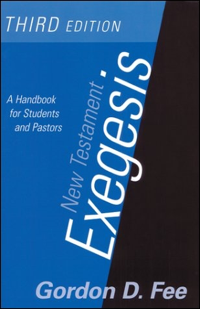 New Testament Exegesis: A Handbook for Students and Pastors
Building on the belief that the task of exegesis is to understand the divine-human intention locked within the biblical text, Gordon Fee provides a lucid step-by-step analysis of exegetical procedures that has made New Testament Exegesis a standard textbook for nearly two decades.
$19.99
Save 85%
Your Price: $2.99
Get updates on future free books of the month
This Month's Giveaway
Enter to win Westminster John Knox Theology Collection (6 vols.) — a $180 value!
January Free Book of the Month Giveaway
*By entering the contest, you are opting in to receive emails from Logos and Logos publishing partners.
Don't Miss Out!
Each month we bring you exciting new books to build your library.
Sign up above to hear about each month's free book.