30-Day Challenge Launch Kit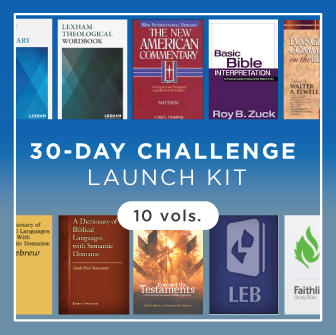 Overview
The 30-Day Challenge Launch Kit is a collection of resources put together specifically for people who complete the 30-Day Challenge. With this kit, you'll get essential resources for basic Bible study: Bible commentaries, Greek and Hebrew lexicons, the most advanced Bible dictionary, and the Faithlife Study Bible. The included reverse-interlinear English Bible will allow you to study using the original languages of Scripture.
You'll also get Roy Zuck's classic Basic Bible Interpretation, one of the top-rated commentaries on the book of Matthew, and the Lexham Theological Wordbook, a resource that gives you insight into some of the most important theological concepts in the Bible. All of these resources can be read, searched, and studied within Logos' free desktop core engine or mobile apps.
These resources will enable you to take advantage of the key Bible study principles learned in the 30-Day Challenge. With a simple right-click, you'll be able to perform powerful searches of your resources.
Product Details
Title: 30-Day Challenge Launch Kit
Volumes: 10
More details about these resources
Show More