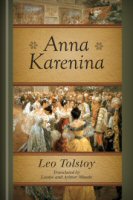 Runs on Windows, Mac and mobile.
$10.00
Reg.: $24.95
Print: $42.83
* Projected price. Future bids may change this price.
Place Your Bid!
Click on the highest price you'd pay. If the final price is lower, that's what you'll pay.
Overview
Widely considered one of the greatest novels of the nineteenth century, Anna Karenina is an essential work for any student of literature. Russian writer Leo Tolstoy presents a delicately layered story of the human condition, rich with philosophical insights at every turn. It opens with the famous lines, "Happy families are all alike; every unhappy family is unhappy in its own way," and pulses with rich detail, pristine realism, and dramatic intensity across its 900 plus pages. Centering around an adulterous affair in nineteenth-century aristocratic Russian society, Tolstoy uses a tangled web of human relationships to explore family dynamics, marriage, the inner life, and the social, economic, and political conditions in a Russia headed for revolution. Seamlessly intertwining the narratives of a colorful cast of characters, he creates a dramatic tour de force in a style Vladimir Nabokov praised for its "flawless magic."
This edition of Anna Karenina is translated by Tolstoy's most celebrated translators as well as his personal friends—Louise and Aylmer Maude. The Maude translation presents the novel with careful attention to Tolstoy's language and intimate knowledge of his style, offering an accessible rendition for English readers that doesn't sacrifice the text's beauty or integrity.
The Logos edition of this valuable volume is enhanced by amazing functionality. Study Tolstoy's text alongside a library of classic literature and philosophy. Important terms link to dictionaries, encyclopedias, and a wealth of other resources in your digital library. Powerful searches help you find exactly what you're looking for. Tablet and mobile apps let you take your study with you. With Logos Bible Software, the most efficient and comprehensive research tools are in one place, so you get the most out of your study.
Key Features
A central text in Russian literature
Translated by Tolstoy's personal friends, Louise and Aylmer Maude
One of Tolstoy's masterpieces
Praise for the Print Edition
. . . flawless as a work of art.
. . . the best [novel] ever written.
—William Faulkner
Product Details
Title: Anna Karenina
Author: Leo Tolstoy
Translators: Louise and Aylmer Maude
Publication Date: 1918
Pages: 931
About Leo Tolstoy
Leo Tolstoy (1828–1910) was born into a well-established noble Russian family. His parents died when he was young, leaving him to be brought up by relatives. He studied law and oriental languages at Kazan University. In 1851, he and his older brother went to the Caucasus and joined the army. About this time he began writing, a labor which would be profoundly influenced by his military experiences, as well as two trips he took to Europe—one in 1857 and one in 1860. During these trips he witnessed a public execution in Paris, met Victor Hugo and Pierre-Joseph Proudhon, and had a number of other significant experiences which shaped his philosophical, political, and religious views, and led him to renounce his aristocratic way of life. Tolstoy died of pneumonia in 1910, leaving behind a masterful body of work.