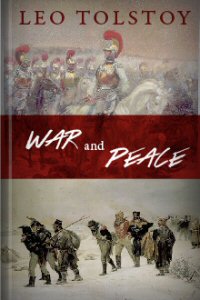 Runs on Windows, Mac and mobile.
$11.00
Reg.: $15.95
Print: $19.99
* Projected price. Future bids may change this price.
Place Your Bid!
Click on the highest price you'd pay. If the final price is lower, that's what you'll pay.
Overview
Described by Leo Tolstoy as "not a novel, even less . . . a poem, and still less a historical chronicle," War and Peace is widely considered his greatest achievement. The scope and brilliance of War and Peace has captivated audiences for a century and a half, and the text has been in curriculum ranging from the humanities to military theory. Centered on Napoleon's disastrous 1812 invasion of Russia, the massive work covers a range of literary themes; Tolstoy masterfully depicts five aristocratic families whose experiences reveal the nature of war, power, and history. War and Peace is a pillar of the Russian literary canon, and it's a must-have for any student of literature or history.
The Logos edition of War and Peace is enhanced by amazing functionality. You can study Tosltoy's text alongside a library of classic literature and philosophy. Important terms link to dictionaries, encyclopedias, and a wealth of other resources in your digital library. Powerful searches help you find exactly what you're looking for. Tablet and mobile apps let you take your study with you. With Logos Bible Software, the most efficient and comprehensive research tools are in one place, so you get the most out of your study.
Key Features
Quintessential work of Russian literature's golden age
Masterful display of nineteenth-century realism
Grand exposition of Russian society and themes of power and history
Critically acclaimed translation by Tolstoy's personal friends, Louise and Aylmer Maude
Praise for War and Peace
I don't know anybody who could write about war better than Tolstoy did.
—Ernest Hemingway
War and Peace is the work of genius, equal to everything that the Russian literature has produced before.
—Nikolai Strakhov
The last word of the landlord's literature and the brilliant one at that.
This is positively what might be called a Russian Iliad. Embracing the whole epoch, it is the grandiose literary event, showcasing the gallery of great men painted by a lively brush of the great master. . . . This is one of the most, if not the most profound literary work ever.
—Ivan Goncharov
[War and Peace] could be seen as an epic of the great national war which up until now has had its historians but never had its singers.
—Nikolai Leskov
If the world could write by itself, it would write like Tolstoy.
—Isaak Babel
Product Details
Title: War and Peace
Author: Leo Tolstoy
Translators: Louise and Aylmer Maude
Publisher: The Heritage Press
Publication Date: 1938
Pages: 1225
About Leo Tolstoy
Leo Tolstoy (1828–1910) was born into a well-established noble Russian family. His parents died when he was young, leaving him to be brought up by relatives. He studied law and oriental languages at Kazan University. In 1851, he and his older brother went to the Caucasus and joined the army. About this time he began writing, a labor which would be profoundly influenced by his military experiences, as well as two trips he took to Europe—one in 1857 and one in 1860. During these trips he witnessed a public execution in Paris, met Victor Hugo and Pierre-Joseph Proudhon, and had a number of other significant experiences which shaped his philosophical, political, and religious views, and led him to renounce his aristocratic way of life. Tolstoy died of pneumonia in 1910, leaving behind a masterful body of work.