The Book of Acts in Its First Century Setting (5 vols.)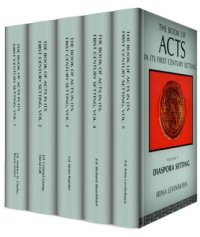 The Book of Acts in Its First Century Setting (5 vols.)
•
Runs on Windows, Mac and mobile.
Overview
The Book of Acts in Its First Century Setting (5 vols.) series explains the culture and context surrounding the New Testament's history of how the gospel began its journey to all nations. Volume 1 examines Luke's place as a legitimate Hellenistic historian, as well as the tropes and schemes of historical literature of the time. In volume 3 Brian Rapske provides an often-overlooked perspective of Paul as Roman prisoner, exploring the custodial system of the Graeco-Roman world along with Paul' persona and mission. Other volumes draw on expert contributions from archaeologists, anthropologists, and historians to recreate the world the church was born into.
In the Logos editions, these valuable volumes are enhanced by amazing functionality. Scripture citations link directly to English translations, and important terms link to dictionaries, encyclopedias, and a wealth of other resources in your digital library. Bolster your study of Acts by cross-referencing and comparing within an extensive library of Bible background studies and church history. Take your study with you using tablet and mobile apps. With Logos Bible Software, the most efficient and comprehensive research tools are in one place, so you get the most out of your study.
Key Features
Draws on expert scholarship to recreate the world the church was born into
Aids in understanding Acts as a first-century historical volume
Includes a unique analysis of Paul the Roman Prisoner
Product Details
Title: The Book of Acts in Its First Century Setting
Series: The Book of Acts in Its First Century Setting (BAFCS)
Publisher: Eerdmans
Volumes: 5
Pages: 2,508

The Book of Acts in Its First Century Setting, vol. 1: Ancient Literary Setting includes fourteen chapters devoted to the literary framework that undergirds the Book of Acts. Topics include the text as historical monograph, ancient rhetoric and speeches, the Pauline corpus, biblical history, subsequent ecclesiastical histories, and modern literary method. All of these chapters arise out of a consultation by the project's scholars at Cambridge in March 1993.
The Book of Acts in Its Ancient Literary Setting offers a number of quite fresh approaches to Acts. . . . A dozen different genres or types of document are explored here, resulting in a rich mix of options. Acts emerges from its isolation into a world of contemporary rhetoric and recording. This work lifts the study of Acts onto a new, much more contextual plane.
—Edwin A. Judge
An important contribution to a new and better understanding of Luke's Acts in its true literary and historical context. This work is coming at just the right time, when a change in the older pseudo-critical but (in reality) unhistorical assessment of Luke is becoming visible. It shows that Luke is a real Hellenistic historian writing a monograph about the history of a new messianic Jewish sect called 'Christians.' This group of highly qualified authors gives a convincing overview from quite different perspectives, helping us to do more justice to Luke and to better understand this fascinating early Christian author.
Bruce Winter is the director of the Institute of Early Christianity in the Graeco-Roman World, a fellow of St. Edmund's College, and a member of the divinity faculty at the University of Cambridge. He was recently elected a senior research fellow in the department of ancient history at Macquarie University, Sydney, Australia.
Andrew D. Clarke is senior lecturer in New Testament at the University of Aberdeen, Scotland.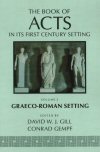 In The Book of Acts in Its First Century Setting, vol. 2: Graeco-Roman Setting expert contributors in archaeology, anthropology, history, and other fields reconstruct the stage on which Luke wrote Acts.
The results of our rapidly expanded historical and archaeological knowledge have here been brought to bear on the Book of Acts to stunning effect. Outstanding as Jackson and Lake was in its day, this volume on the Graeco-Roman setting of Acts holds out the promise of equaling if not surpassing that great achievement.
This well-written volume offers a remarkable, up-to-date collection of relevant new data to assist in scenario formation for a considerate reading of the Book of Acts. The largely Australian and British team of authors must be congratulated for preparing this very useful data set. There are authoritative descriptions of travel, of food supply, of domestic and political religion, of urban elites, and of the Eastern Mediterranean provinces and their leadership. Such information about the realia of the Graeco-Roman world will enable the interpreter of Acts to bring these data to bear in the process of interpretation. . . . Of great use to ancient historians, classicists, and biblical scholars, yet written and presented in such a way that it will be fascinating to intelligent nonprofessionals as well.
David Gill is head of the division of humanities and professor of archaeological heritage at University Campus Suffolk. He holds the 2012 Archaeological Institute of America Outstanding Public Service Award and the 2012 SAFE Beacon Award. He is the author of Sifting the Soil of Greece: The Early Years of British School at Athens.
Conrad Gempf is lecturer in New Testament at the London School of Theology. He was a translation advisor to the NIV Translation Committee and to the New Testament of The Manga Bible.

The Book of Acts in Its First Century Setting, vol. 3: Paul in Roman Custody provides a unique opportunity not only to learn about the custodial system of the Graeco-Roman world, but to better view Paul's persona and Christian mission as well. Brian Rapske's outstanding study shows Luke himself to be an ardent helper of Paul the missionary prisoner.
The author has produced an invaluable resource for both Acts and Pauline scholars, having placed the prison narratives of Paul in both their cultural and literary settings. The footnotes alone demonstrate the wealth of socio-cultural knowledge that Rapske brings to his reading of the Acts account as well as his understanding of the Pauline missions via-á-vis his suffering in prison.
—Journal for the Study of the New Testament
We are now deeply indebted to Rapske for exposing a surprising blank page in our understanding of Paul's ministry: Paul in Roman custody. . . . Carefully drawing on primary material, Rapske uncovers a wealth of historical information on Roman judicial processes and related custodial practices. . . . We have important contributions to the study of Paul and of Acts in this book. Judicious reasonable explanations are provided for elements of the Acts narrative that have aroused historical suspicions. . . . Rapske clearly has produced a magisterial study putting New Testament research, especially Acts, in his debt.
—Theological Educator
Brian M. Rapske is assistant professor of New Testament at Northwest Baptist Seminary in Langley, British Columbia.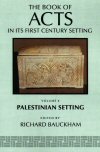 The Book of Acts in Its First Century Setting, vol. 4: Palestinian Setting is devoted to a series of studies of those parts of the narrative of Acts that are specifically set in Palestine. The geographical, political, cultural, social, and religious aspects of first-century Jewish Palestine are all explored in order to throw light on Luke's account of the Palestinian origins of early Christianity. There are fresh assessments of the historical significance of key features, persons, and events in Luke's narrative.
This fine collective work interprets Acts in the setting of ancient Judaea, Samaria, and Galilee. Its chapters range from studies of archaeology, inscriptions, geography, and culture to reviews of historical questions concerning the Jerusalem church and its organization and worship, and the relation of Christians to the Roman administration and the Jewish community. Ancient historians and specialists in Jewish studies collaborate with New Testament scholars to offer a wealth of information and many fresh approaches and insights. Their contributions form a handbook of high quality and interest that will be valued for a long time.
Expect from this series an avoidance of oversimplification, engagement with current scholarship, independence of judgment, and superb knowledge of the world of ancient Christianity.
Richard Bauckham is professor emeritus of New Testament studies at the University of St. Andrew, Scotland, and senior scholar at Ridley Hall, Cambridge. A fellow of both the British Academy and the Royal Society of Edinburgh, he is the author of Bible and Mission: Christian Witness in a Postmodern World.

The Book of Acts in Its First Century Setting, vol. 5: Diaspora Setting
Author: Irina Levinskaya
Series: The Book of Acts in Its First Century Setting (BAFCS)
Publisher: Eerdmans
Publication Date: 1996
Pages: 316
In The Book of Acts in Its First Century Setting, vol. 5: Diaspora Setting, Irina Levinskaya uss Aracheological research to illuminate the cultural interaction between Jews and the societies surrounding them in the first century. Throughout the text Levinskaya surveys and challenges commonly held views on the nature of Jewish dispersion.
Irina Levinskaya is senior research fellow at the St. Petersburg Institute of History of the Russian Academy of Arts and Sciences. She is the author of A Historico-Philological Commentary on the Acts of the Apostles.