T&T Clark Bible Backgrounds Collection (9 vols.)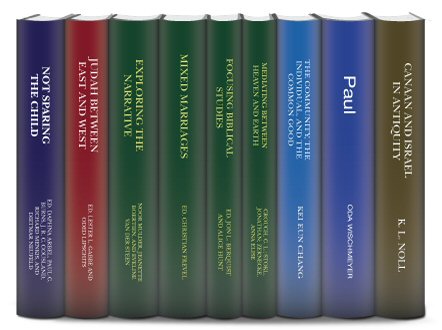 T&T Clark Bible Backgrounds Collection (9 vols.)
•
Runs on Windows, Mac and mobile.
Overview
The T&T Clark Bible Backgrounds Collection is an invaluable help for placing the biblical world within the context of surrounding cultures, governments, economies, and physical climates. You'll learn about the complex and deeply significant history of human sacrifice, the political climate of Israel through the years, how societal pillars like marriage evolved through the years, and the religious context of biblical figures. Gathered here are archaeologists, sociologist, anthropologists, historians, and biblical scholars who provide clear and balanced access into the societies occupied by Abraham, David, Nehemiah, Jesus, and Paul.
The Logos Bible Software edition of the Bible Backgrounds Collection strengthens your study and understanding of these topics. Scripture passages link directly to your English translations and original language texts, and important theological concepts link to dictionaries, encyclopedias, and a wealth of other resources in your digital library. Perform powerful searches by topic and find what other authors, scholars, and theologians have to say about marriage, politics, and religion throughout the biblical timeline. Jumping into the conversation has never been easier.
Key Features
Clear and balanced window into the worlds inhabited by biblical characters
Leading scholarship from a diverse field of disciplines
Thorough examinations of key themes such as sacrifice, marriage, and prayer in Near Eastern history
Individual Titles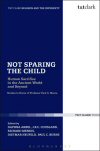 Not Sparing the Child: Human Sacrifice in the Ancient World and Beyond: Studies in Honor of Professor Paul G. Mosca
Editors: Daphna Arbel, Paul C. Burns, J.R.C. Cousland, Richard Menkis, and Dietmar Neufeld
Publisher: T&T Clark
Publication Date: 2013
Pages: 320
Human sacrifice in the ancient Mediterranean world continues to be a topic that ignites popular imagination and engenders scholarly discussion and controversy. This volume aims to advance the discussion by providing balanced and judicious treatments of these topics from a cross-disciplinary and cross-cultural perspective. It provides nuanced examinations of ancient ritual, exploring the various meanings that human sacrifice held for antiquity, and examines its varied repercussions up into the modern world. The book explores evidence that sheds new light on the origins of the rite, to whom these sacrifices were offered, and by whom they were performed. It presents fresh insights into the social and religious meanings of this practice in its varied biblical landscape and ancient contexts, and demonstrates how human sacrifice has captured the imagination of later writers who have employed it in diverse cultural and theological discourses to convey their own views and ideologies. It provides valuable perspectives for understanding key cultural, theological, and ideological dimensions, such as the sacrifice of Christ, scapegoating, self-sacrifice, and martyrdom in post-biblical and modern times.
Daphna Arbel is associate professor in the department of classical, Near Eastern, and religious studies at the University of British Columbia.
Paul C. Burns is associate professor emeritus of classical, Near Eastern, and religious studies at the University of British Columbia.
J.R.C. Cousland is associate professor in the department of classical, Near Eastern, and religious studies at the University of British Columbia.
Richard Menkis is associate professor of medieval and modern Jewish history of the University of British Columbia.
Dietmar Neufeld is associate professor in the department of classical, Near Eastern, and religious studies at the University of British Columbia.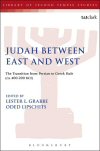 This is a collection of essays by leading scholars examining the period of transition between Persian and Greek rule of Judah, ca. 400–200 BCE. Authors explore the archaeology of Maresha/Marisa, Jewish identity, Hellenization/Hellenism, Ptolemaic administration in Judah, biblical and Jewish literature of the early Greek period, the size and status of Jerusalem, the Samaritans in the transition period, and Greek foundations in Palestine. Judah between East and West offers cutting-edge work for a readership of scholars, teachers, postgraduate students and advanced undergraduates in the field of second temple studies. All the many and diverse aspects of second temple study are represented and promoted, including innovative work from historical perspectives, studies using social-scientific and literary theory, and developing theological, cultural, and contextual approaches.
Lester L. Grabbe is professor of Hebrew Bible and early Judaism at the University of Hull. He is founder and convenor of the European Seminar in Historical Methodology.
Oded Lipschits is associate professor of Jewish history at Tel Aviv University.

Exploring the Narrative: Jerusalem and Jordan in the Bronze and Iron Ages
Editors: Noor Mulder, Jeannette Boertien, and Eveline van der Steen
Series: The Library of Hebrew Bible/Old Testament Studies
Publisher: T&T Clark
Publication Date: 2013
Pages: 352
This volume brings together a number of scholars who use archaeology as a tool to question the sometimes easy assumptions made by historians and biblical scholars about the past. It includes essays from both archaeologists and biblical scholars whose subject matter, whilst differing widely in both geographical and chronological terms, shares a critical stance used to examine the relationship between dirt archaeology and the biblical world as presented to us through written sources.
Noor Mulder is an independent scholar and classical archaeologist.
Jeannette Boertien is an archaeologist in the faculty of theology and religious studies at the University of Groningen in the Netherlands.
Eveline van der Steen is a Near Eastern archaeologist and an honorary research fellow at the School of Archaeology, Classics, and Egyptology at the University of Liverpool.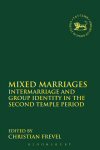 Mixed Marriages: Intermarriage and Group Identity in the Second Temple Period
Editor: Christian Frevel
Series: The Library of Hebrew Bible/Old Testament Studies
Publisher: T&T Clark
Publication Date: 2013
Pages: 352
Intermarriage and group identity in the second temple period is investigated from different points of view with regard to methodology and analyzed texts. With an introduction to the history of research and a summarizing final section, the individual contributions are associated with the larger context of the recent debate. The diversity of texts on mixed marriage within the Hebrew Bible and related scripture will be shown and emphasized and the question of continuity and discontinuity as well as the socio-historical background of marriage restrictions is discussed.
Covering a wide range of texts from the Hebrew Bible as well as from the Elephantine, Qumran and several pseudepigrapha, like Jubilees, Mixed Marriages' focus is on possible counter texts with a more positive notion of foreign wives, in addition to restrictive and prohibitive texts.
These different approaches will illuminate the dynamics of the construction of group identity, culminating in conflicts concerning separation and integration which can be found in the debate on the topic of the "correct" marriage.
Christian Frevel is professor of Old Testament studies at the Ruhr-University of Bochum, member of the German Society for the Exploration of Palestine, and an internal fellow of the International Consortium for Research in the Humanities.

Focusing Biblical Studies: The Crucial Nature of the Persian and Hellensitic Periods: Essays in Honor of Douglas A. Knight
Editors: Jon L. Berquist and Alice Hunt
Series: The Library of Hebrew Bible/Old Testament Studies
Publisher: T&T Clark
Publication Date: 2012
Pages: 224
This volume makes a positive intervention into maximalist/minimalist debates about Israelite historiography by pointing to the events that happened during the Persian and Hellenistic periods. During this historical epoch, traditions about Israel and Judah's founding became fixed as markers of ethnic identity, and much of the canonical Hebrew Bible came into its present form. Concentrating on these events, a clearer historical picture emerges.
The entire volume is set within the context of Doug Knight's contributions, which have encouraged a rigorous social-scientific and tradition-historical approach to the Hebrew Bible and ancient Israel in general. Many scholars have pursued how the social scientific method—first used to analyze early monarchic Israel—can shape the understanding of these later historical periods. Knight's methods, teachings, writings, and scholarly interventions have pointed the contributors of this volume to fresh considerations of the Persian and Hellenistic periods. The concluding essay will examine the future directions in which such sociological and historical investigation can go forward.
Jon L. Berquist is senior academic editor at Westminster Jon Knox Press.
Alice Hunt is president of Chicago Theological Seminary.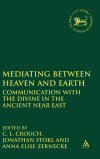 Mediating between Heaven and Earth: Communication with the Divine in the Ancient Near East
Editors: C.L. Crouch, Jonathan Stökl, and Anna Elise Zernecke
Series: The Library of Hebrew Bible/Old Testament Studies
Publisher: T&T Clark
Publication Date: 2012
Pages: 208
In this volume experts analyze the variety of means by which humans historically sought to communicate with their gods and by which the gods were seen to communicate with their worshippers. In a departure from previous scholarship, this work brings together the study of prophecy, as an intuitive form of divination, with the study of technical methods of communication and other forms of institutionalized communication such as prayer.
Such a format allows divine-human communication to be studied in both directions simultaneously: the means by which the divine communicates to human beings through divination, and the means by which human beings communicate with the divine through prayer. This new perspective on the study of divine-human-divine communication allows scholars to better appreciate the way in which communication and the relationship between heaven and earth was conceived in the ancient Near East.
C.L. Crouch is a lecturer in Hebrew Bible at the University of Nottingham.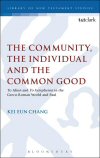 This book investigates Paul's effort to combat factionalism by his use of the Greco-Roman rhetoric of "the common advantage" to overcome socio-ethical problems caused by the improper exercise of "private advantage" in Corinth. Chang examines the common advantage, first, as a fundamental principle that defined human and societal relationships in the Greco-Roman world. He explores how the neglect and misunderstanding of this principle lay at the root of relational and societal breakdowns. The book further examines Paul's use of the term and demonstrates that, when properly understood and appropriated, the principle of the common advantage is pivotal to keeping societies and relationships dynamic and healthy. Conversely, when common advantage is not functioning and, concomitantly, private advantage is wrongly emphasized at its expense, relational, societal, and ecclesiastical breakdowns occur. The book culminates in demonstrating that, for Paul, the common advantage carries missional and salvific implications that override and subvert socio-ethnic boundaries. In this way, otherwise hostile social groups will realize a healthy symbiosis.
Kei Eun Chang earned a PhD in New Testament and Christian origins from Boston University. He continues his scholarly research and is currently leader minister of New Hampshire Korean Christian Church in New Hampshire.

This work is an invaluable handbook for students seriously engaging with Paul's life, letters, and context. The book is written by several coauthors, all experts in their given fields, to give the most up-to-date and accurate information to readers—but also to present a sense of authorial continuity throughout the book. The book is divided into three main parts: the environment, life, work, and person of Paul, Paul's letters and theological themes, and the reception of Paul and his letters. This gives readers a comprehensive overview of scholarship on Paul and makes it the perfect handbook for the serious student wishing to engage with some of the most important writings in the New Testament. This book features maps, tables, text-boxes, up-to-date bibliographies, and key points identified throughout.
Oda Wischmeyer is professor of the New Testament at the University of Erlangen, Germany.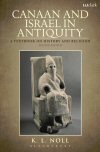 This comprehensive textbook represents the most recent approaches to the biblical world by surveying Palestine's social, political, economic, religious, and ecological changes between the Palaeolithic and Roman eras. Designed for beginners with little knowledge of the ancient world, and offering copious illustrations and charts, it explains how and why academic study of the past is undertaken, as well as the differences between historical and theological scholarship and the differences between ancient and modern genres of history writing. Classroom tested chapters emphasize the authenticity of the Bible as a product of an ancient culture, and the many problems with the biblical narrative as a historical source. Neither "maximalist" nor "minimalist," it is sufficiently general to avoid confusion and to allow the assignment of supplementary readings such as biblical narratives and ancient Near Eastern texts. This new edition has been fully revised, incorporating new graphics and English translations of Near Eastern inscriptions. New material on the religiously diverse environment of Ancient Israel taking into account the latest archaeological discussions brings this book right up to date.
Though a textbook addressed to students, this is an important book for biblical studies as a whole. After more than 40 years of crisis and debate, Noll presents here a history of ancient Canaan and Israel which is both sound and balanced. I would recommend it to all teachers in the field without reservation.
—Thomas L. Thompson, professor emeritus, University of Copenhagen
K.L. Noll is associate professor of religion of Brandon University.