Cornerstone Biblical Commentary Upgrade 2 (3 vols.)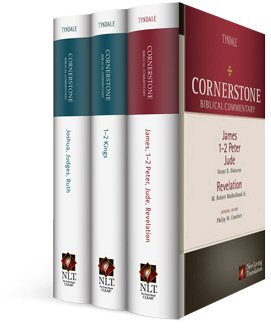 Overview
The Cornerstone Biblical Commentary series provides up-to-date, evangelical scholarship on the Old and New Testaments. Each volume is designed to equip pastors and Christian leaders with exegetical and theological knowledge to better understand and apply God's Word by presenting the message of each passage as well as an overview of other issues surrounding the text. The commentary series has been structured to help readers understand the meaning of Scripture, passage-by-passage, through the entire Bible.
Each book of the Bible is prefaced by a substantial introduction that offers historical background important for understanding. Then readers are taken through the Bible text, passage-by-passage, starting with the text of the New Living Translation. This is followed by a section of notes on the Greek and Hebrew behind the English translation of the New Living Translation. This section also interacts with scholars on important interpretive issues, and points readers to significant textual and contextual matters. The commentary on the passage presents a lucid interpretation, giving special attention to context and major theological themes.
With the Logos edition of the Cornerstone Biblical Commentary Series, you can read the commentary on the text alongside the New Living Translation, as well as the Greek and Hebrew texts in your digital library! Perform powerful searches and word studies and click your way to Greek and Hebrew definitions. What's more, you can also link the Cornerstone Biblical Commentary to the other commentaries in your library for quick and accurate research for scholarly projects, sermon preparation, and personal study.
Key Features
Provides introductions to the historical and cultural context, the literary style, and the major themes and theological concerns of each book
Includes exegetical and textual notes
Offers commentary that pays special attention to context and major theological themes
Praise for the Print Edition
An enormously helpful series for the layperson and pastor alike because it centers on the theological message of each book and ties it directly to the text. This approach has been needed for some time and will be an invaluable supplement to other commentary series.
—Grant Osborne, professor of New Testament, Trinity Evangelical Divinity School
A treasure house of insight into the biblical text. Written by some of the best scholars working today, it is an essential tool for pastors, students, church leaders, and lay people who want to understand the text and know how it relates to our lives today. Like the New Living Translation text it uses as its base, this commentary series is extremely readable.
—Tremper Longman, Robert H. Gundry Professor of Biblical Studies, Westmont College
Product Details
Title: Cornerstone Biblical Commentary Upgrade 2
Series: Cornerstone Biblical Commentary
Publisher: Tyndale
Volumes: 3
Pages: 1,608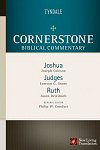 Joseph Coleson is professor of Old Testament at Nazarene Theological Seminary. He has published numerous articles and books.
Lawson Stone has expertise in early Israelite history and religion and Old Testament theology. He teaches at Asbury Theological Seminary and has written a host of books and articles.
Jason Driesbach is a coauthor of The Many Gospels of Jesus and a contributor to the Baker Illustrated Bible Dictionary. He is pursuing PhD studies in the field of Hebrew Bible.

William Barnes has worked extensively in the historical books of the Old Testament, published several commentaries and scholarly articles, and is a contributor to Biblica: The Bible Atlas. His interests include Old Testament history and chronology as well as narrative and poetic structure and sequencing in the Hebrew Bible and the New Testament. He served as a member of the NLT translation team for 1–2 Kings.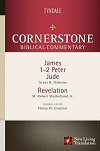 Grant R. Osborne is professor of New Testament at Trinity Evangelical Divinity School. He has authored and edited numerous books, including The Hermeneutical Spiral and many commentaries on the New Testament.
M. Robert Mulholland Jr. is vice president of Asbury Seminary and an expert in New Testament and Christian origins and spiritual formation. His several books include The Deeper Journey and contributions to the Dictionary of Jesus and the Gospels. He is also a frequent speaker at Bible and spiritual renewal conferences.
About Philip W. Comfort
Philip W. Comfort has studied English literature, Greek, and New Testament at the Ohio State University and the University of South Africa. He has taught these classes at a number of colleges, including Wheaton College, Trinity Episcopal Seminary, Columbia International University, and Coastal Carolina University. He is currently senior editor of Bible reference at Tyndale and served as New Testament editor for the New Living Translation. He has contributed a number of books to the Tyndale collection, both as author and editor. Among these are The New Greek-English Interlinear New Testament, The Origin of the Bible, The Tyndale Bible Dictionary, The Complete Guide to Bible Versions, The Text of the Earliest New Testament Greek Manuscripts (with D. Barrett), and Who's Who in Christian History.
More details about these resources