Cornerstone Biblical Commentary Series (CBC) (9 vols.)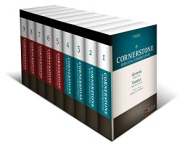 Overview
The nine-volume Cornerstone Biblical Commentary Series helps teachers, pastors, students, and laypersons understand every thought contained in the Bible. The commentary focuses on the words of Scripture, the theological truths of Scripture, and original language texts as well as English translations of the Bible. Nearly 100 scholars from various church backgrounds and several countries contributed to this massive commentary.
This series is structured to explain meaning of every passage in Scripture. Each book of the Bible includes a substantial introduction that offers important historical background. Readers are taken through the Bible, passage by passage, followed by a section of notes on the Greek and Hebrew behind the English of the New Living Translation. This section includes contributions from scholars on important interpretive issues, pointing readers to significant textual, contextual, and theological matters.
With the Logos edition of the Cornerstone Biblical Commentary Series, you can read the commentary on the text alongside the New Living Translation, as well as the Greek and Hebrew texts in your digital library! Perform powerful searches and word studies and click your way to Greek and Hebrew definitions. What's more, you can also link the Cornerstone Biblical Commentary to the other commentaries in your library for quick and accurate research for scholarly projects, sermon preparation, and personal study.
Key Features
Introductions to the historical and cultural context, literary style, major themes, and theological concerns
Exegetical and textual notes
Explanations of context and major theological themes
Praise for the Print Edition
An enormously helpful series for the layperson and pastor alike because it centers on the theological message of each book and ties it directly to the text. This approach has been needed for some time and will be an invaluable supplement to other commentary series.
A treasure house of insight into the biblical text. Written by some of the best scholars working today, it is an essential tool for pastors, students, church leaders, and lay people who want to understand the text and know how it relates to our lives today. Like the New Living Translation text it uses as its base, this commentary series is extremely readable.
—Tremper Longman
Product Details
Title: Cornerstone Biblical Commentary Series
General Editor: Philip W. Comfort
Publisher: Tyndale
Volumes: 9
Pages: 4,780
About Phillip W. Comfort