Faith in the New Testament by Adolf Schlatter: English and German (2 vols.)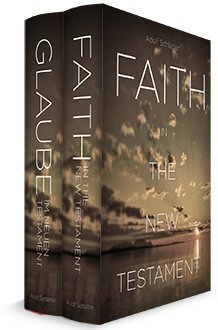 Faith in the New Testament by Adolf Schlatter: English and German (2 vols.)
•
Brill 1885–2013
Runs on Windows, Mac and mobile.
Your Custom Discount
Reg. Price $89.95
Pre-order Price $39.95
Your Price $39.95
You Save $50.00 55%
Your Price
What's Pre-Pub?
$39.95
Overview
One of the most influential New Testament scholars of the twentieth century was Adolf Schlatter. Philosophically ahead of his time, Schlatter's works and theological insights continue to be held in high esteem. First appearing in 1885, Adolf Schlatter's Der Glaube im Neuen Testament (Faith in the New Testament) is a thorough analysis of the Christian concept of faith. In Part One of his examination of the background of the idea of faith, Schlatter illustrates how synagogues interpreted faith as obedience to the law, which resulted in human religion (a focus on works) replacing a personal relationship with God. In Part Two, Schlatter defends the idea that Jesus was the creator of the doctrine of "faith alone"—though he asserts that faith can transform a believer to respond to God's love through works. Faith in the New Testament also reveals how Paul, James, Peter, Matthew, and John interpreted the idea of Christian faith, including highlighting their faith experiences.
With an eye toward relevant primary sources, Schlatter's Faith in the New Testament is an exhaustive work that takes into account the Old Testament, Rabbinic, and other key first-century writings. It is a philological masterpiece par excellence, making its translation into English a great contribution to New Testament theology studies.
The Logos Bible Software edition of Faith in the New Testament by Adolf Schlatter: English and German (2 vols.) gives you instant access to the texts of the Hebrew and Greek Testaments along with a wealth of dictionaries, lexicons, and language reference tools. All Scripture passages are linked directly to the original language texts and your preferred Bible translations, and double-clicking any Hebrew or Greek word automatically opens a lexicon to help you decipher its meaning and understand its context. That makes the Logos edition of Faith in the New Testament by Adolf Schlatter: English and German (2 vols.) the most useful and accessible for students, pastors, and scholars.
A New Approach to Translation Projects
Logos Bible Software is pleased to announce the first ever English translation of Adolf Schlatter's Glaube im Neuen Testament. Using the Pre-Pub Process for this project allows us to invest resources in translating Faith in the New Testament only if there is sufficient demand. Schlatter's monograph, which currently is only accessible to German readers, will soon be widely accessible to everyone. As the scope of the project becomes clearer, the price might increase, such as when we announce the translator and we begin the work of translation. That means users who pre-order the earliest with the fewest details available will get the best price.
Key Features
English and German editions
Detailed examination of relevant primary source material
Thorough analysis on the background and concept of faith
Praise for Adolf Schlatter
Adolf Schlatter's theological work is undoubtedly one of the most versatile and prolific designs which has spawned Protestant theology in Germany.
—Werner Neuer, lecturer, Theological Seminary in St. Chrischona
Der Glaube im Neuen Testament is a model for the investigation of biblical theological terms.
—Gerhard Kittel, author of Theological Dictionary of the New Testament
One of my scholarly and personal heroes is Adolf Schlatter....At a time when Adolf Harnack espoused his liberalism, and Rudolf Bultmann eclectically appropriated David Friedrich Strauss's mythological approach and Martin Heidegger's existentialism, Schlatter stood firm in his advocacy of a biblical-theological, salvation-historical reading of the Bible and a high view of Scripture.
—Andreas Köstenberger, Senior Professor of New Testament and Biblical Theology and director of the Ph.D. Studies, Southeastern Baptist Theological Seminary
Individual Titles
Product Details
Title: Faith in the New Testament by Adolf Schlatter: English and German
Author: Adolf Schlatter
Volumes: 2
About Adolf Schlatter
Adolf Schlatter (1852–1938) was a German New Testament scholar and professor. Schlatter was educated at Tübingen University and the University of Basel, where he graduated in 1875. Considered by some to a world class philologist, Schlatter chose instead to focus his studies on theology. He is the author of hundreds of written works, including influential monographs on a variety of topics relating to the study of the New Testament, biblical history, New Testament Judaism, and dogmatics, as well as a number of critical commentaries. Adolf Schlatter taught at a number of universities, including the University of Bern, University of Greifswald, and the influential Tübingen University.