F. C. Baur Collection (5 vols.)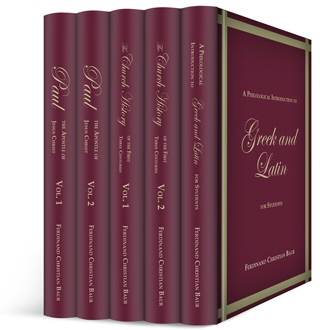 Classical NT Criticism and Early Church History
F. C. Baur is credited with founding the movement known as the "Tübingen School" of New Testament criticism. At the time, his ideas were considered radical and the movement he started largely dissipated with his death, but the method of his biblical inquiry continues to influence New Testament criticism today and his works on early Christianity and his Pauline studies are still widely cited and referred to.
The F. C. Baur Collection contains his most influential works on the early church and his handbook on philology. Paul, the Apostle of Jesus Christ contains Baur's in-depth examination of Paul's life, work, and the doctrine contained in his epistles. In the two-volume Church History of the First Three Centuries, Baur further develops his theory of the two distinct representations of Christianity, the Jewish and the Pauline, by unfolding the history of the doctrine and dogma of the first three centuries of Christianity.
With the Logos Bible Software edition, all Scripture passages in the F. C. Baur Collection are tagged and appear on mouseover. This makes these resources more powerful and easier to access than ever before for scholarly work or personal Bible study. With Logos' advanced search features, you can perform split-second searches by topic or Scripture reference—finding, for example, every mention of "grace" or "Romans 3:23."
Key Features
Includes F. C. Baur's most important and influential works
Contains Baur's handbook on philology
Completely searchable, linked to your preferred Bible translation and the other books in your library
Product Details
Title: F. C. Baur Collection
Author: F. C. Baur
Volumes: 5
Pages: 1,422
About F. C. Baur
Ferdinand Christian Baur (1792–1860) was educated at the University of Tübingen where he later taught as a professor of theology and is credited with founding the movement known as the "Tübingen School" of New Testament criticism. He applied Hegelian philosophy to Christian history in order to develop a new understanding about how Christianity developed.