Hebrew Lexicons
Use lexicons to look up Hebrew terms and easily navigate through an entry.
Included in Logos 8 Silver and up

This video feature Logos 7. The software may appear differently in your version of Logos.
Related Products
Hebrew and Aramaic Lexicon of the Old Testament (HALOT) (5 vols.)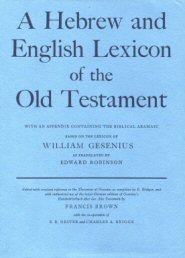 Enhanced Brown-Driver-Briggs Hebrew and English Lexicon (BDB)
Which Package Has the Features You Need?
Compare your options to find the package with everything you need for your Bible study. Or get a recommendation from us.
Recommend
Compare Packages