Give Your Students Access to a Theological Library at a Super Smart Value
Get started
Access to a library of resources and scholarly works is a critical requirement that colleges and seminaries want to provide for their students. But sometimes getting to a library is a challenge, if not impossible. Thankfully, Faithlife has created a robust, theological library available to students anytime, from anywhere. Now students can do their scholarly research from whatever location works best for them—all at a cost that's an absolute no-brainer.
Enjoy the Thousands of Resources Included with Each Remote Research Library License
Step 1
---
Get Verified as an Academic Account
Fill out our academic verification form to check out with the library licenses for your school. After you've filled out the form, please refresh this page and proceed to getting your licenses.
Fill out form
Step 2
---
Find or Create Your School Group for Free
Check to see if your school already has a Faithlife group. If not, create one for your school now.*
Find your group
Create a new group
If you create a new group for your school, be sure to set your privacy level to "private" during your group setup so that your students can find your group and request to join.
If you already have a group, make sure the privacy levels are set to "private" by navigating to Settings > Group Settings in the sidebar of your group page and looking under the Privacy and Safety heading for your group.
Help & Support
Training Videos for Group Admins
*Are you a student looking for a convenient, remote research library? Check with your school to see if they are participating in this program, or send this page to your school administrator so they can enroll your school and get you started.
Step 3
---
Purchase Licenses for Your Students
Enter the number of licenses you need below and follow the steps to purchase licenses for your church group. Make sure you check out with enough licenses for all the students that need access to the library. Note: This is an auto-renew subscription priced per year.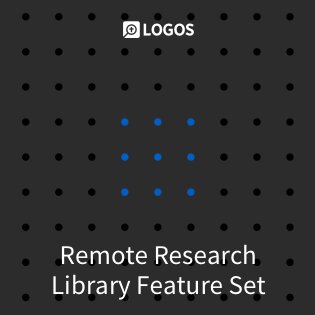 Remote Research Library
Reg. Price Per Year: $12.99
Save 50%
Your Price Per Year: $xxx.xx
To subscribe, please get verified above to get your academic verification from Logos.
Step 4
---
Invite Your Students
Invite your students to your school's online group to give them library access.
How to Invite
Invite via Faithlife group.
From faithlife.com, navigate to your school's group. Click Invite in the top right, then Add contacts to upload the email addresses of your students and faculty. Personalize your message so your students and faculty know what to do next. We recommend telling your students to click the link in the email to create a Faithlife account (if they haven't already) and join the group.
Send them an email with a link to your group.
To do this, copy and paste the link for your school's group from your browser window and link to this in your school's email communication with students.
Be sure to send your students to our student instructions page if they want more information on how to access their libraries with Logos.
Help & Support
Step 5
---
Continue Learning
Now that you have a Faithlife group for your students, you can take advantage of the many other communication tools through the Faithlife platform.
For example, you can post announcements, create discussion topics or subgroups, schedule calendar events, send out newsletters, and more. It's also a great way to stay in touch with students and encourage their participation by sharing prayer requests, study materials, and new academic insights. Faithlife keeps your entire community connected, no matter where your members are located.
Learn How
Training Videos for Academic and Theologian Studies
Looking for more information on our academic solutions? Connect with our team.