Septuagint with Logos Morphology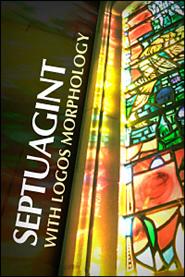 Overview
The Septuagint (commonly abbreviated "LXX") is a Greek translation of the Old Testament. Today, more than 2,000 years after the Septuagint was completed, we can see how Hebrew terms and concepts were translated into Greek for use by Hellenistic Jews. This provides insight to students of the whole Bible, both the Old and New Testaments. Old Testament scholars can garner a better understanding of how the Old Testament was understood and practiced based on the translation into Greek. New Testament scholars gain access to a version of the Old Testament comparable to what the New Testament writers used. Linguists can embark on grammatical studies, to compare Septuagint usage of a term with New Testament usage.
The morphology tagging in this edition of the LXX, prepared by Logos Bible Software, integrates with other resources tagged with the Logos morphology, making it possible to perform searches across numerous morphologically tagged texts such as the New Testament, Pseudepigrapha, Apostolic Fathers, Philo, and Josephus. This allows for ease of comparison in examining the usage of various grammatical and morphological constructions across a variety of authors and Greek texts.
Note: This edition of the Septuagint is only available for Logos 4 and higher. It cannot be used in Libronix 3.0 or earlier.
Key Features
Rahlfs' text of the Septuagint
The Alternate Texts to Joshua, Judges, Daniel, Tobit, Susanna, and Bel and the Dragon
Complete morphological tagging
Includes the corrected, updated, and revised 2006 text.
Praise for the Print Edition
This is the popular edition of the Septuagint—and the only affordable version with the complete Greek text.
—Tyler F. Williams
The work is intended as a manual edition to serve the needs of clergy and students; as such, it is the most convenient and most popular of all LXX editions.
—Joseph A. Fitzmyer, An Introductory Bibliography for the Study of Scripture
Product Details
Title: Septuagint: With Logos Morphology
Author: Alfred Rahlfs
Publisher: Deutsche Bibelgesellschaft
Publication Date: 2006
About Alfred Rahlfs
Alfred Rahlfs lived from 1865 to 1935. Following in the footsteps of his teacher, Paul de Lagarde, Rahlfs' central academic focus was the Septuagint throughout his entire career. He was responsible for initiating the Göttingen Septuagint and produced the volume on the Psalms and Odes for that edition.
More details about these resources