Institutio Theologiae Elencticae (3 vols.)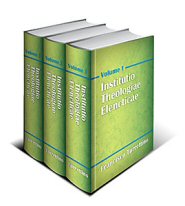 Institutio Theologiae Elencticae (3 vols.)
•
Runs on Windows, Mac and mobile.
$10.00
Reg.: $69.95
Print: $149.95
* Projected price. Future bids may change this price.
Place Your Bid!
Click on the highest price you'd pay. If the final price is lower, that's what you'll pay.
Overview
Francis Turretin's Institutio Theologiae Elencticae (3 Vols.) was the standard introductory work used for Reformed theological education for nearly two hundred years, until it was replaced by Charles Hodge's Systematic Theology and Berkhof's Systematic Theology. First published in 1679 in Latin, Institutio Theologiae Elencticae (3 Vols.), or Institutes of Elentic Theology (3 Vols.), is written in a question-and-answer format, covering topics such as the authenticity of the Scriptures, various versions of the Bible, the canon of Scripture, and the authority of Scripture, as well as a myriad of other theological issues. This edition, not translated into English, features the original Latin language, providing the most accurate text available.
Institutio Theologiae Elencticae (3 Vols.) is indispensable for anyone interested in Reformed theology and the history of Reformed thinking in the Church. Considered the standard on the subject until the publication of Systematic Theology by Charles Hodge in 1871, Turretin's magnum opus was required reading at Princeton Seminary for many years. As a historical work, this collection provides invaluable documentation of one of the most influential works of Reformed thinking. Using the Latin version, the electronic edition makes it easy to study side–by–side with your other Latin resources, as well as other Reformed works in your library.
Key Features
Original Latin text
One of the most influential Reformed theological works
Easy-to-read question-and-answer format
Includes over 2,000 pages
Praise for the Print Edition
. . . the most precise theologian in the Calvinistic tradition.
—John Gerstner
Turretin is exhaustive in his writing. In fact, Turretin's work was required as a text for students of such great Princeton theologians as Charles Hodge and R.L. Dabney. If you are a serious theologian and love to study theology in-depth then you should not be without this series.
—Online reviewer
Product Details
Title: Institutio Theologiae Elencticae (3 Vols.)
Publisher: John D. Lowe
Author/Editor: Francis Turretin
Volumes: 3
Pages: 2,003
Individual Titles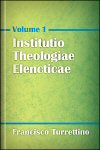 Table of Contents
Locus Primus—De Theologia
Locus Secundus—De Scriptura Sacra
Locus Tertius—De Deo Uno, Et Trino
Locus Quartus—De Decretis Dei in Genere, Et De Predestinatione in Specie
Locus Quintus—De Creatione
Locus Sextus—De Providentia Dei Actuali
Locus Septimus—De Angelis
Locus Octavus—De Statu Hominis Ante Lapsum, Et Foedere Naturae
Locus Nonus—De Peccato, IN Genere Et Specie
Locus Decimus—De Libero Hominis Arbitrio In Statu Peccati
Index Rerum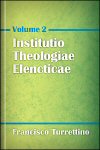 Table of Contents
Locus Undecimus—De Lege Dei
Locus Duodecimus—De Foedere Gratae Et Duplici Ejus Oeconomia In Vertieri Et Novo Testamento
Locus Decimus Tertius—De Persona Et Statu Christi
Locus Decimus Quartus—De Officio Christi Mediatorio
Locus Decimus Quintus—De Vocatione Et Fide
Locus Decimus Sextus—De Justificatione
Locus Decimus Septimus—De Sanctificatione Et Bonis Operibus
About Francis Turretin
Francis Turretin was born in 1623 in Italy. Best known for his defense of Reformed Calvinism, Turretin was a Protestant theologian and pastor. He was the author of several theological works, the most famous and influential being Institutio Theologiae Elencticae (3 Vols.). It was the set text for Reformed Calvinism until the publication of Charles Hodges's Systematic Theology in 1871. He died in 1687.
Sample Pages from the Print Edition