An absolute classic and essential resource for serious theological study, Francis Turretin's Institutes of Elenctic Theology, originally written in Latin, was a standard work in theological education for two hundred years. It was required reading at old Princeton Seminary. As a historical work, this collection provides invaluable documentation of one of the most influential works of systematic theology.
Now, with this newly edited English translation, students, scholars, pastors, and laity can enjoy this timeless classic of rigorous and biblically faithful systematic theology from which noted theologians such as Charles and A. A. Hodge, Dabney, Warfield, and Berkhof learned. Turretin's Institutes of Elentic Theology, written in a question-and-answer format, covers all the major topics of systematic theology with precision and exegetical felicity—theological prolegomena, doctrine of Scripture, theology proper, theological anthropology, Christology, and ecclesiology, and more. Turretin also discusses issues central to biblical theology, such as the various biblical covenants and their relationship to one another, as well as a myriad of other theological issues.
The Logos Bible Software edition of Turretin's Institutes of Elenctic Theology is designed to encourage and stimulate your study and understanding of theology. Scripture passages link directly to your English translations and original-language texts, and important theological concepts link to dictionaries, encyclopedias, and a wealth of other resources in your digital library. In addition, you can perform powerful searches by topic and find what other authors, scholars, and theologians have to say about such important topics as the relationship between the Mosaic and Abrahamic Covenants.
Key Features
Modern translation of one of the most important and influential works of theology
Comprehensive treatment of topics in systematic theology
Standard case for, and defense of, Reformed theology
Praise for the Print Edition
[Turretin's Institutes] contributed deeply to the structure and shape of evangelical thought concerning some of the most crucial doctrines . . . Reading this work will prompt many to dispute the cliché of considering Scholasticism a fruitless endeavor. In fact, it will indeed help to reveal its great richness, its scriptural and exegetical precision, the deep knowledge of church history, and its willingness to interact uncompromisingly with the world. Deeply rooted in the Scripture and in open dialogue with the church tradition, Turretin . . . avoids extreme positions and exalts biblical and evangelical principles . . . it is quite evident that the modern evangelical world still has to deal with most of the issues that were at the heart of his polemic. In this respect it is hardly conceivable to consider ourselves evangelicals and at the same time disregard the monumental work of this Swiss-Italian theologian.
—Pietro Bolognesi, Evangelical Review of Theology
Institutes of Elenctic Theology is a classic of reformed scholasticism.
—Norman L. Geisler, Systematic Theology, vol. 1
. . . one of the fullest expressions of Calvinistic theology ever published.
—Wayne A. Grudem, Systematic Theology
If ever a great theological work has been unjustly neglected it has been Francis Turretin's masterful volumes on the whole of Christian doctrine . . . I heartily commend [them] to preachers, theological students and lay persons everywhere.
—James M. Boice, former pastor, Tenth Presbyterian Church, Philadelphia
. . . a noteworthy event for the Reformed churches and for all who take and interest in the history and development of Reformed Theology . . .
—Sinclair B Ferguson, professor of systematic theology, Redeemer Seminary, Dallas
. . . theologians of any persuasion will be glad that this classic is available.
—Leon Morris, former warden, Tyndale House, Cambridge University
I am impressed anew with the true greatness of [Turretin's] achievement . . . One can find a very deep pastoral and devotional strain in Turretin . . . wonderfully edifying teaching.
—John M. Frame, professor of systematic theology and philosophy, Reformed Theological Seminary, Orlando, FL
. . . a superb contribution to theological literature . . . One never errs in reading the giants. Francis Turretin is a giant.
—Paul D. Feinberg, former professor of systematic theology, Trinity Evangelical Divinity School
. . . should prove to be a big step toward remedying the widespread neglect and misunderstanding, even misrepresentation, of seventeenth-century Reformed orthodoxy.
—Richard B. Gaffin Jr., professor emeritus of biblical and systematic theology, Westminster Theological Seminary
One of the greatest of the seventeenth-century Reformed dogmatic works, it has retained its influence through its use at old Princeton. These three volumes put in your hands an excellent representative of high Reformed orthodoxy and polemical theology.
—R. Scott Clark, professor of church history and historical theology, Westminster Seminary California
Individual Titles

Institutes of Elenctic Theology, vol. 1
Author: Francis Turretin
Editor: James T. Dennison Jr.
Translator: George Musgrave Giger
Publisher: P&R Publishing
Publication Date: 1992
Pages: 727
Covering topics 1–10, this volume contains careful discussions directly related to some of the most important issues discussed in the church today. Turretin discusses theological prolegomena, including discussions like the object and genus of theology, whether theology is theoretical or practical, and the place of reason and philosophy in theological study. Other topics include the doctrine of Scripture, with discussions of its authority, inerrancy, and canon. The work also addresses the nature and status of various Bible translations, including the Septuagint. This volume covers theology proper, the decrees of God, creation, providence, and angels. The volume concludes with discussions of theological anthropology, including the state of man before the fall and the "Covenant of Nature," the fall and doctrine of sin, and the nature of free will after the fall.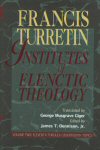 Institutes of Elenctic Theology, vol. 2
Author: Francis Turretin
Editor: James T. Dennison Jr.
Translator: George Musgrave Giger
Publisher: P&R Publishing
Publication Date: 1994
Pages: 748
Topics 11–17 are covered in this important second volume, which offers essential insights for current discussions of a biblical theology of the covenants and other controversial, but fundamental, issues like the nature of justification. (Is it forensic or moral, does it include the imputation of Christ's active obedience, is it received by faith alone?) Here, Turretin takes up central issues like the nature of the law of God and its relationship to the people of God throughout redemptive history. Turretin makes a huge contribution to the development of precise theology in his brilliant discussion of the nature of the Covenant of Grace and its "twofold economy in the Old and New Testaments." Turretin masterfully shows how Scripture relates the Mosaic Covenant to the Abrahamic and New Covenants. Turretin offers an understanding that does not fall into an unbiblical dichotomy of a mean Old Testament God and a nice New Testament Jesus, but also does not infelicitously flatten the Old and New Testament discontinuities into a homogenous works/grace mush. Turretin also covers Christology in this volume, with discussions covering topics like the Incarnation, the location of Christ's soul after his crucifixion, Christ's mediatorial office, and other Christological issues. This volume concludes with discussions of topics surrounding the application of salvation, like calling and faith, justification, and sanctification and good works.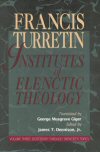 Institutes of Elenctic Theology, vol. 3
Author: Francis Turretin
Editor: James T. Dennison Jr.
Translator: George Musgrave Giger
Publisher: P&R Publishing
Publication Date: 1997
Pages: 800
Concluding this magnum opus with topics 18–20, volume three covers the doctrine of the church and the sacraments—some of the most important but most understudied topics in theology—and eschatology, one of the most popular topics of theological study. One's view of the church is directly linked to one's view of the sacraments, and vice versa. These differences are at the heart of the controversies that divide the major Christian traditions—Roman Catholics, Orthodox, Protestants, and splinters of these larger groups. In this volume, Turretin presents a biblically faithful picture of the Church and her sacraments ordained by Christ. Church government and ministerial offices like presbyter, bishop, and pope are discussed. Turretin also discusses very practical issues such as how a minister is called and how they should be compensated. Discussion of the sacraments includes important issues such as the relationship between the sign of the sacrament and what it signifies, transubstantiation, the relationship of baptism to circumcision, and other important topics. His discussions of eschatology include considerations of the eternity of Hell, the nature of glorified bodies, whether there will be degrees of glory, and other important subjects.
Product Details
Title: Institutes of Elenctic Theology
Author: Francis Turretin
Editor: James T. Dennison Jr.
Translator: George Musgrave Giger
Publisher: P&R Publishing
Volumes: 3
Pages: 2,275
About Francis Turretin
Francis Turretin (1623–1687) was a Swiss-born Italian theologian and pastor, best known for his defense of Reformed theology. His immense intellect was developed through education at Geneva, Leiden, Utrecht, Paris, Saumur, Montauban, and Nimes. Turretin became the pastor of the Italian church in Geneva in 1647 and was appointed professor of theology at the University of Geneva in 1653. In 1675, he published the Formula Consensus Helvetica, which defended the orthodox Calvinism of the Helvetic Confession and the Synod of Dort against teachings from professors like Moise Amyraut and Josue de la Place (from the school at Saumur). Turretin is known as the most precise theologian of Protestant Scholasticism who sought to mine the biblical text for all it had to say and only let paradoxes and mysteries stand when scriptural witness did not address them and was truly silent. He was the author of several theological works, the most famous and influential being his Institutes of Elenctic Theology, the standard text for Reformed theology for 200 years.
About the Editor
James T. Dennison Jr. received his BS from Geneva College, and his BD, MDiv, and ThM from Pittsburgh Theological Seminary. He was ordained in the UPCUSA, the PCA, and then the OPC. He served as librarian and lecturer in church history at Westminster Theological Seminary from 1980 to 2000. He currently serves as academic dean and professor of church history and biblical theology at Northwest Theological Seminary. He is the editor of the biblical-theological preaching journal, Kerux, and the author of The Market-Day of the Soul: The Puritan Doctrine of the Sabbath in England, 1532–1700.
About the Translator
George Musgrave Giger (1822–1865) was educated at the College of New Jersey (now Princeton University) and Princeton Seminary. He was awarded an honorary DD from Jefferson College (now Washington and Jefferson College). He joined the faculty of the College of New Jersey in 1844 and served various roles, first as a tutor in mathematics and later professor of Greek and Latin language and literature, until his death at age 43. He was also ordained in the PCUSA as an evangelist.