Bible Study Magazine—January–February 2016 Issue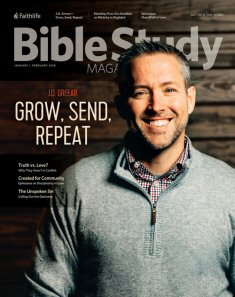 Bible Study Magazine—January–February 2016 Issue
Overview
Get Bible Study Magazine now by purchasing the January–February 2016 back issue for $3.95. That's 20% off the newsstand price of $4.95!
Bible Study Magazine is a print magazine (not an emagazine) published by Lexham Press. Six times a year, Bible Study Magazine delivers tools and methods for Bible study as well as insights from respected teachers, professors, historians, and archeologists.
Read pastor profiles, author interviews, and stories of individuals whose thoughtful engagement with Scripture has shaped their thinking and defined their ministries. Bible Study Magazine reveals the impact of God's Word in their lives—and the power of Scripture in yours.
We have a limited supply of back issues of the January–February 2016 Bible Study Magazine. Get your copy while you still can!
Each Issue of Bible Study Magazine Includes:
Feature Stories
Discover new ways to connect the Bible with your ministry and life through in-depth interviews and articles from the biggest names in the church and biblical scholarship.
Bible Study Tips
Explore the Word—thoughtful and engaging authors tackle the tough passages in Scripture, explain difficult concepts, and confront complex interpretations in a way that helps the Gospel make sense in your life.
On the Cutting Edge
Keep up to date on the latest news in biblical research, including archaeological and historical findings.
A New Kind of Bible Study
Encounter God by yourself or with other believers with an ongoing Bible study in each issue.
On Teaching
Get advice on how to preach or teach the Bible in any setting from well-known pastors and teachers who use the Bible every day.
Tool Box
Learn how to effectively use the latest Bible study tools with our how-to guides.
In the News
Keep informed about the latest news in biblically related topics, discoveries, and events.
Thoughts from the Ancients
Read the Bible together with those who have come before you, and learn from the wisdom of the early church—in its own words.
Word Studies
Get a close-up view of the Bible! Each issue contains insights about specific words found in the Bible and tutorials on how to do word studies.
If Only Someone Would Explain It to Me
Enrich your understanding of the Bible with explanations of biblical and theological concepts by top scholars.
Did You Know?
Discover interesting facts about the place of the Bible in the contemporary and the ancient world.
What They Don't Tell You in Church
See things you never noticed in biblical passages you have read dozens of times.
Biblical Humor
The funniest stories and the best comics related to the Bible, useful for any setting.
Book Reviews
Stay on top of the latest books about Bible study. Each issue contains reviews of books and commentaries to equip you in your study of God's Word.
Excerpts from the January–February 2016 Issue!
J.D. Greear—Grow, Send, Repeat
'I remember the night my seventh grade Sunday school teacher taught from Matthew 7, where Jesus says, 'Not everyone who says to me, 'LORD, LORD' will enter the kingdom of heaven.' I was convinced that was going to be me.' J.D. Greear, author and pastor at The Summit Church of Raleigh-Durham, North Carolina, grew up in a family with an active church life. But in his early teens, he constantly worried about whether he was really saved.
—Jesse Strong
Standing Firm: Ara Badalian on Ministry in Baghdad
'I didn't know anything about Christianity, except that I was a Christian,' says Ara Badalian, now pastor of a vibrant church in the heart of Baghdad. Badalian grew up in Iraq's capital city in an Orthodox household—his grandfather was an ethnic Armenian who came to Baghdad to escape the Turkish persecution following World War I. During Badalian's childhood, Christianity functioned more as a family identifier than as a life-changing faith.
—Jesse Strong
Walk as You've Been Called
Ephesians is different than most of Paul's letters. Paul is usually straightforward and earnest, but Ephesians is ornate, even wordy. Paul's letters are usually personal, naming names and addressing specific issues, but Ephesians is formal—strange, considering that Ephesus was arguably Paul's missionary 'home church.' Paul usually writes to address an issue, but the occasion of his letter to the Ephesians is not apparent, and the content addresses general, rather than specifc issues.
—Eli T. Evans
That It May Go Well with You
By quoting the Hebrew Scriptures, Paul shows the continuity of God's plan for families. A unified, devoted family, one with a healthy respect for rightful authority, bring honor God, who created it.
—Kelley Mathews
Product Details
Title: Bible Study Magazine—January–February 2016 Issue
Editor-in-Chief: Rebecca Van Noord
Academic Editor: Douglas Mangum
Art Director: Christine Gerhart
Graphic Designers: Jim LePage, Patrick Fore, and Josh Warren
Advertising Sales: Kevin Bratcher
Marketing: Dan Pritchett, Phil Gons, Tayler Beede, Nick Kelly, and Scott Lindsey
Series: Bible Study Magazine
Publisher: Lexham Press
Resource Type: Magazine
Topic: Biblical Studies